When it comes to occasions that are great for a party, there are few more popular than Halloween.
Whether you're planning a small get-together for your little trick-or-treater or throwing an event for the entire family, hosting a Halloween party for kids can be a simple way to celebrate the big day when you plan it well.
From candy craft projects to spooky decorations, this article will guide you through setting up an unforgettable Halloween gathering suited for even the smallest fantastic friends!
Start With Decorations
When it comes to setting the mood for your child-friendly Halloween party, fun decorations are a must.
While you can easily decorate the whole house with classic Halloween decor like pumpkins, plastic bats, and fabric ghosts, you may also want to consider setting a theme for your decor.
Some fun Halloween decorating options might include a haunted manor theme or a witch's house.
On a budget? Keep in mind that there are plenty of fun Halloween decorations that you can make yourself!
Easy projects like homemade banners, carved pumpkins, and trash bag spiderwebs can be done by the whole family and help get everyone excited for the upcoming event.
Set Up Activities
What's a party without fun activities? You'll want to make sure to have some crafts and activities on hand for the kids to keep them entertained.
A great way to do this is by creating an activity station filled with all things Halloween-related – think coloring pages of witches and ghosts, mini pumpkins to carve, or a slime-making station.
You could also lead kids in a round of spooky storytelling, or a flashlight scavenger hunt.
If older children attend, some great activities could include bobbing for apples and setting up a mini haunted house.
No matter which activities you choose, make sure they're age-appropriate for the children attending. After all, you don't want anyone getting too scared!
Try Dry Ice Halloween Drinks
A fun and easy way to add instant cool to your Halloween party for kids is by preparing dry ice Halloween drinks.
Prepare your favorite Halloween beverages, such as pumpkin smoothies, apple cider, or witch's brew, then use the dry ice to create a smoking effect on the surface of the drinks.
Dry ice drinks are perfect for a Halloween party, since the finished drink will look like it's straight out of a witch's caldron. But making them does take some extra care.
Wear protective gear such as gloves and safety glasses when using dry ice. Avoid touching it with bare hands and keep it away from children at all times.
Also, remember that too much dry ice can potentially harm the environment and decrease oxygen levels, so use it sparingly.
Choose a Spooky Menu
The food is often the best part of any party, and Halloween is no exception!
When choosing the right menu for a child-friendly celebration, you want to ensure everyone has something they can enjoy, including picky eaters.
Keep the time of the party in mind when planning the food. In some cases, snacks might be all that's needed. Other times, you'll want to serve more substantial food.
In either case, remember to keep it spooky! There are all kinds of fun ways to give ordinary party food a Halloween twist.
Hot dogs wrapped in strips of puff pastry, for example, become mummies in a blanket! And dying the filling for deviled eggs an orange color lets you fill the egg halves to look like pumpkins.
Plan to serve a combination of a few healthy Halloween snacks along with some sweeter treats like Halloween cupcakes and sugar cookies.
Organize Games
No party is complete without party games, and there are plenty of fun ones to try on Halloween!
A costume contest is a great game for kids of all ages. Set some different categories like best dressed and most creative, and give out prizes. You may want to have a small prize for each kid to keep things lighthearted and fun.
Older kids may also love playing a game of Dead Man's Body. In the dark, kids pass around the dead man's "body parts" that are actually items like frozen grapes and cooked spaghetti.
Then, they write down their best guesses for what the items actually were. The kids with the most correct guesses win a prize.
Have a Plan For Clean-Up
Finally, remember to have a plan for clean up! You don't want to have everyone rush off at the end of a party only for you to realize you have a huge mess to clean by yourself.
Make sure you have plenty of garbage bags on hand, and enlist the help of family members or other adults to help you tidy up during the festivities to minimize mess after.
When the party is done, consider giving each member of your household an easy job to do, like picking up decorations or loading the dishwasher.
With a little help, your house will be back to normal again in no time!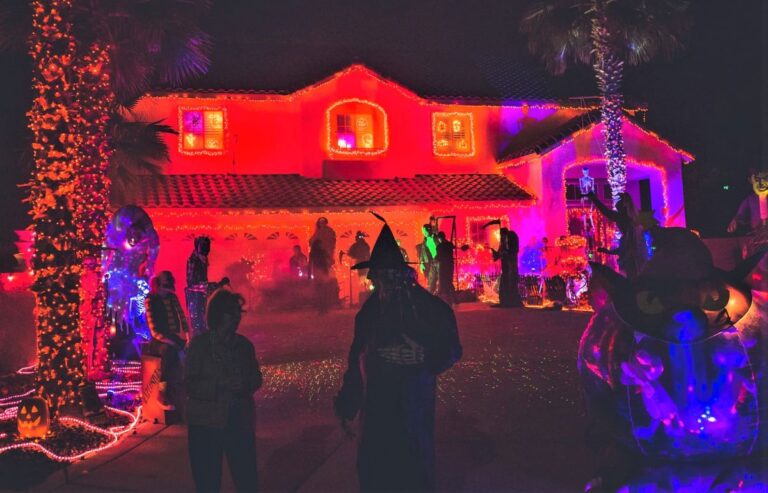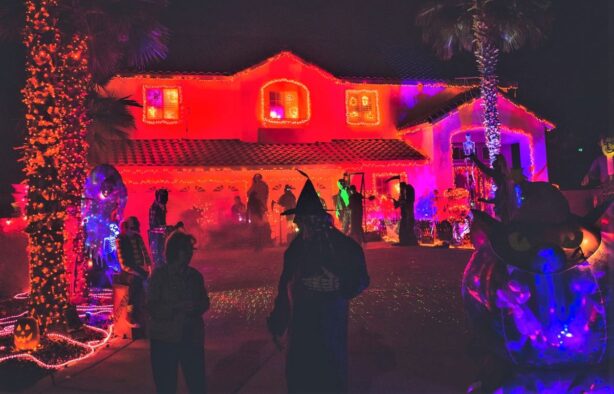 Hosting a Halloween party for kids can be a great way to get your little ones excited about the occasion. And it doesn't have to take a lot of work!
Go step-by-step as you plan, and make sure there's a few different things that will keep guests of all ages entertained.
With a little work and these tips, you'll be throwing the perfect spooktacular celebration with ease!