Family vacations are a great way to make memories with your kids, but they can put a pretty big dent in your budget.
That's why camping can be such a great vacation choice for families. It lets you bond with your kids and enjoy the great outdoors, without spending a fortune!
But, if you're new to camping, you will want to make sure that you and your kids are prepared to head into the wilderness (or your local campground).
Keep these 5 tips in mind to ensure your camping experience is one the whole family will remember fondly!
1. Gear Up
While camping with the family is one of most inexpensive vacation choices there is, it does require investing in some gear at first.
Start with the essentials: a comfortable and easy-to-assemble tent, sleeping bags for each member of the family, camping chairs, a cooler for your food, and some inexpensive cookware and dishware.
Then, if you want to get a little fancier, you can consider adding extra gear like a portable cooking station, air mattresses, or a portable screened gazebo.
While you will have to spend some money initially to ensure you're camping in style, you'll only need to purchase most pieces of gear once in order to enjoy years of fun camping experiences.
And remember that there are always ways to save on your camping essentials, too!
Check for clearance sales at the end of the season, look for high-quality second-hand items on your local buy-and-sell groups, or use The North Face promo codes to save when shopping online.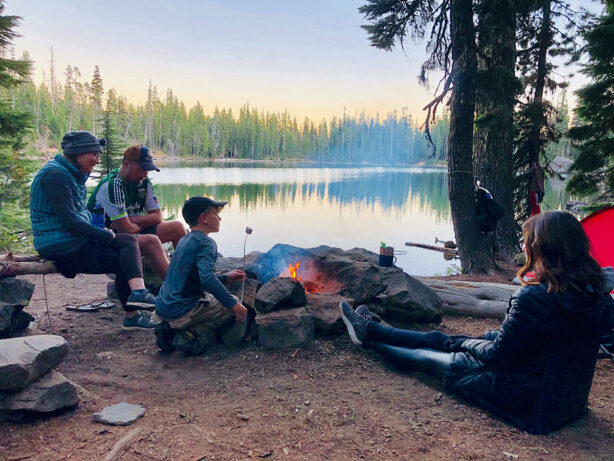 2. Pick a Destination
One of the best things about camping is that you can find great campsites in virtually every state and province across North America.
And whether you prefer a campsite with tons of fun activities for the whole family, or one with stunning natural scenery, there's a spot that's sure to be perfect for you!
If your family is new to camping, then it's likely a good idea to pick an area close to home for your first adventure.
Hop online and investigate nearby campgrounds and the amenities they have to offer. You may be amazed by some of the natural beauty to be found right next door.
Then, as your family become more seasoned campers, you can start venturing further from home and discovering more exotic camping locations.
If everybody enjoys themselves, you may find that camping becomes your family's favorite choice for a vacation!
3. Don't Forget the Essentials
While getting the right gear is a must for a successful family camping trip, ensuring you have essential items packed is just as important.
Try to pack for every possibility. It's better to pack something you don't need, rather than wish you'd packed something you left at home.
Some must-haves for any trip include sunscreen, insect repellent, a first aid kit, toilet paper, and rain gear.
And don't forget the usual travel toiletries like toothbrushes, soap, and hand sanitizer, too!
4. Pack Those Flashlights
While many modern campgrounds have good lighting in important areas, it's still a smart idea to make sure that you can find your way around in the dark.
But, even though a flashlight is always going to come in handy when camping, it's also a great way to have some extra fun!
Consider playing a few rounds of flashlight tag with the kids, or using it to tell spooky stories around the campfire.
You could even show your kids how to make shadow animals, and let them put on a shadow puppet show!
And don't forget to pack batteries for your flashlights, as well. You might want to also consider buying a solar-powered flashlight or crank flashlight just in case of an emergency.
5. Check the Weather
There's nothing that can ruin the camping experience for new campers quite like bad weather. After all, how much can you really do if rain is pouring down your entire trip?
A bit of rain is nothing that needs to ruin your trip, but if it's going to be pouring the entire time, then you may want to consider rescheduling.
On the other hand, if you'll only have to deal with rain for a day or two, then just make sure you pack with that in mind.
Stock up on easy-traveling board games, some extra books, and some other fun activities, so that kids can keep themselves entertained if the weather keeps them in the tent.
Preparing For a Family Camping Trip
Camping is one of the most popular recreational activities there is, and with good reason. It's a ton of fun!
But when you're camping with your children, being prepared for anything becomes incredibly important.
Take your time, and ensure you're ready with gear, food, and activities to last throughout your trip. Then get ready for a fun-filled adventure with your loved ones.
You may be amazed by just how many benefits to camping with family there really are!