Do you want to give your skin a much-needed boost before the hot days of summer?
Whether it's tackling wrinkles, restoring vibrancy, or reversing sun damage—finding the right skin treatment can make all the difference.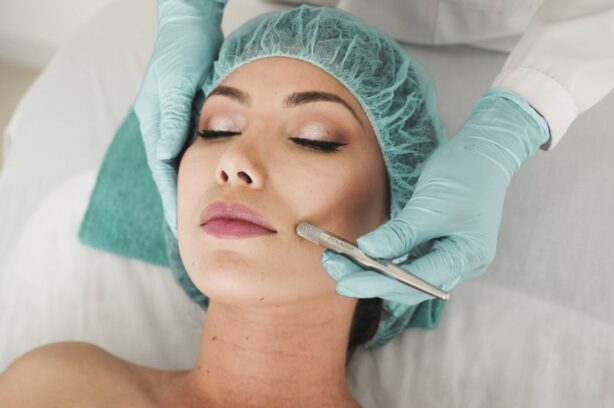 There's no end to the different skin treatments available, and each one offers different benefits depending on your goals for your skin.
If you're wondering which procedure might be best for you, consider one of these six popular skin treatments that can help rejuvenate your appearance:
Microdermabrasion
Microdermabrasion is a popular skincare treatment that can do wonders for your skin.
This non-invasive procedure exfoliates the top layer of your skin to reveal smoother, brighter, and more youthful-looking skin.
It's a fantastic option for anyone who's looking to rejuvenate their skin, reduce fine lines, or even out skin tone and texture.
Also, unlike some other skincare procedures, microdermabrasion is relatively gentle and pain free. You'll be able to return to your normal activities almost immediately after the treatment is over.
Keep in mind, though, that since the top layer of skin has been buffed away, using proper sun protection in the weeks after your procedure is essential.
Chemical Peels
Chemical peels are a form of skincare treatment that has become increasingly popular in recent years.
The peels use a specially formulated chemical solution to remove the outermost layer of skin, revealing a smoother and clearer complexion underneath, and boosting the skin's collagen production.
The process of a chemical peel begins with the application of the peel solution, which is left on the skin for a set amount of time.
The duration of the treatment will vary depending on the individual's skin type and the severity of their skin concerns.
After treatment, as with microdermabrasion, protecting the skin from UV rays is essential. While some milder peels may not have any significant effects after application, stronger formulas may result in skin irritation, dryness, or peeling.
If you're new to chemical peels, trying a mild at-home version may be a good way to decide whether or not you'd like to try a more intensive version with a skincare specialist.
Facials
Everyone deserves a little bit of pampering from time to time. And what better way to treat yourself than with a luxurious facial?
Not only is a facial a great chance for you to relax and unwind, it will also benefit your skin by targeting specific skin concerns.
There are numerous types of facials available, each tailored to different skin types and concerns. And, for those on a budget, an at-home facial could be a good option as well!
A full facial will often include cleansing, exfoliating, toning, and application of a mask. Blackhead removal, steam treatments, and a face massage may also be included.
While a facial might not provide the dramatic results of a more intensive skin care treatment, it's an enjoyable process that can still produce a noticeable improvement in skin.
Laser Resurfacing
As we age, our skin undergoes changes that can result in the appearance of unwanted pigmentation, fine lines, wrinkles, and more.
While some people may opt for more intensive surgical procedures to combat these common signs of aging, there is another option that is becoming increasingly popular: laser resurfacing.
Using advanced laser technology, this innovative treatment revitalizes your skin by penetrating deep into the layers and stimulating the production of collagen and elastin.
Over time, you'll begin to notice more even skin tone, reduced pigmentation, and a smoother, more youthful complexion.
A key benefit of laser treatments is that they can target specific areas that you want to improve. A single targeted treatment can often permanently remove acne scars, sun damage, or age spots.
Or, for a more youthful appearance overall, a full-face treatment can help even skin tone and reduce fine lines and wrinkles.
Laser treatments often suggested by top Vancouver skin clinics include V-Beam, IPL, and Erbium laser skin resurfacing. A consultation will help your chosen clinic decide on the best treatment to meet your skincare goals.
Botox Injections
If there's one skin treatment that almost everyone has heard mentioned, it's Botox injections. And, when used carefully, there's no better way to eliminate both fine lines and wrinkles from the face.
By strategically injecting the botulinum toxin into facial muscles, Botox effectively paralyzes them, relaxing the skin and smoothing out any wrinkles.
In most cases, you'll notice the results of a Botox treatment within about three to five days. It's important to remember, however, that Botox injections aren't a permanent fix.
Generally, you'll notice wrinkles returning after three to six months. However, with regular treatment, the results can last longer as the facial muscles causing wrinkles start to shrink.
Dermaplaning
If you're looking for a natural way to refresh your skin, then dermaplaning might be the answer you're looking for.
This process uses a specially-designed razor that's designed to scrape the dead skin cells and fine hairs from your face, revealing a brighter, smoother complexion underneath.
While it might sound painful, dermaplaning is actually a gentle, non-invasive treatment that can be done by a professional, or at home with the right tools.
By removing the top layer of your skin, you're allowing products and serums to penetrate deeper and work more effectively. The appearance of age spots and wrinkles may also be diminished.
As an added bonus, collagen production generally increases as well, as the skin works to repair the layer of skin that's been removed.
However, as with microdermabrasion, proper sun protection in the weeks after your treatment is essential.
When it comes to improving the look and feel of your skin, there are all kinds of potential solutions to consider.
From simple exfoliation methods to more intensive laser or injection treatments, finding the right treatment for your skin concerns can produce some dramatic results.
Look into the cost, recovery time, and potential results of the skin treatments you're interested in, and see if one of them could give you the fresh, youthful appearance you want to achieve.