There's nothing that says "summer" quite as much as a meal off the BBQ. But, the cooking process can definitely be time-consuming…especially if you're feeding a crowd!
If you're looking for ways to enjoy the warm weather without spending hours over the grill, then you're in luck!
These 3 easy make-ahead BBQ recipes are the perfect way to serve your guests while still having time to enjoy their company.
Since they're prepped, and sometimes pre-cooked, before being finished on the grill, you'll be able to serve up an amazing BBQ feast with minimal effort.
Pair them with your family's famous potato salad and some sides from the Eva Smith blog, and you'll be ready to show yourself as the host with the most!
1. Smoky Texan Chicken Wings
Smoky Texan Chicken Wings
Total Time:
2 hours
25 minutes
If you want to serve BBQ chicken to a crowd, these easy wings are a great choice! Prep them the night before and then pop them on the grill for a delicious main course in twenty minutes!
Ingredients
1 kg (2.2 lbs) chicken wings, tips removed
1 tablespoon ketchup
1 tablespoon sugar
1 garlic clove, minced
2 tablespoons smoked paprika
2 tablespoons Worcestershire sauce
1 fresh red chili, finely chopped
2 tablespoons olive oil
salt and black pepper, to taste
Instructions
Season wings with salt and black pepper, then place in large bowl or ziplock bag.
In a small bowl, combine remaining ingredients. Pour over chicken wings and mix gently to coat.
Marinate wings for at least two hours, or overnight.
Heat grill to a medium heat, remove wings from marinade, and place in single layer on grill rack.
Grill for approximately twenty minutes, until wings are lightly charred and center is cooked through.
Notes
This recipe is easy to double or triple when feeding a crowd!
2. BBQ Goat with Jerk Seasoning and Pineapple Salsa
BBQ Goat with Jerk Seasoning and Pineapple Salsa
Total Time:
4 hours
40 minutes
Try something new for your next BBQ by serving up this delicious, spicy goat shoulder! Cooked slow in the oven and finished on the grill, it's sure to impress your guests.
Ingredients
1 goat shoulder
Jerk seasoning
1.3 litres Stout or Porter
1 pineapple, cored and cut into rings
Black pepper, freshly ground
2 red chilies, diced
3/4 cup white wine vinegar
1/2 cup white sugar
Salt to taste
Instructions
Preheat oven to 325 degrees.
Rub goat shoulder with jerk seasoning and salt. Place in large baking pan and cover with foil.
Place pan in oven and set timer for four hours.
While goat is cooking, pour stout into small pan. Simmer until thick and reduced. Set aside.
Heat BBQ to medium-high and place pineapple rings on grill. Cook 3-6 minutes, turning once, until lightly browned.
Chop pineapple and place in bowl with chilis.
Simmer vinegar and sugar in small bowl until sugar is dissolved. Pour over pineapple and mix well.
Refrigerate pineapple salsa until ready to serve.
When goat is done, remove from oven and brush meat generously with reduced stout.
Grill for approximately 10 minutes, until outside is lightly charred.
Serve with pineapple salsa.
3. Brazilian-Style Beef BBQ Skewers
Brazilian Style Beef Skewers
Ingredients
1 /12 lbs beef ribeye steak, cubed
2 tablespoons olive oil
2 finely chopped garlic cloves
1 tablespoon smoked paprika
1 teaspoon oregano
1 large yellow pepper
1 large red pepper
1 sliced red onion
Additional vegetables, if desired (zucchini, mushroom, etc.)
Instructions
Place steak cubes into a large bowl.
Cut peppers, onions, and any other vegetables into cubes and add to steak.
Add all other ingredients and mix well.
Let mixture marinate for at least 2 hours, or overnight if desired.
When ready to serve, heat BBQ to medium-high heat.
Thread meat and vegetables onto 8 wooden skewers.
Grill for 10 minutes, or until vegetables are lightly charred and meat is cooked.
Notes
To help prevent wooden skewers from catching fire, soak in ice water for 15 minutes before using.
Nutrition Information:
Yield:

4
Serving Size:

1
Amount Per Serving:
Calories:

642
Total Fat:

42g
Saturated Fat:

16g
Trans Fat:

1g
Unsaturated Fat:

23g
Cholesterol:

180mg
Sodium:

110mg
Carbohydrates:

9g
Fiber:

2g
Sugar:

3g
Protein:

56g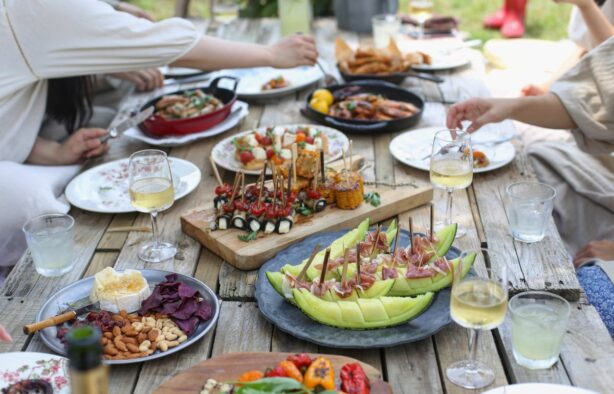 When it comes to make-ahead BBQ recipes, proper preparation is a key for saving time and effort when it's time to start cooking.
So, whether you're planning on cooking up some mouthwatering Dr. Pepper Ribs or just serving up homemade burgers, make sure to prepare as much as possible the night or morning before your meal.
That way, you'll have plenty of time for good company, good food, and all the other joys of summer!