As nice as it can be to have a stylish and decorative headboard, the only reason to have one is generally for aesthetic reasons, not practical ones.
Not only are they often quite expensive, many headboards take up space that could be used for something else.
If you're trying to decide whether or not you want a bed frame that has a headboard, consider these three reasons you may want to go without:
1. Free Up Valuable Floor And Wall Space
For those who have limited space in their bedrooms, every inch counts. Headboards can take up your valuable floor and wall space that could be better utilized in another way.
Eliminating a headboard will save you space and prevent your bedroom from feeling cramped, letting you get the largest bed size possible for your room.
2. More Affordable
If you're on a tight budget for your bedroom furniture, going without a headboard can be a way to keep your costs down.
Headboards can be surprisingly expensive considering they're not essential. When you also factor in the price of your bed frame, mattress, blanket, and pillows, the costs can add up quickly.
3. More Space For Decoration
With the extra space you gain by eliminating a headboard, you'll be better able to add decorations to showcase your style.
Shelves, lights, artwork, and other decorative items can all be added to the wall to help make the most of the space that a headboard would normally use.

Dark Gray

82 ″ L × 64 ″ W × 11.5 ″ H

Steel, Foam, Engineered Wood, Velvet fabric

CARB P2-compliant Engineered Wood
4 Storage Drawers
• each drawer is measured 31″L × 20″W × 5.4″H with a volume of 55 L
• metal wire drawers wrapped in polyester fabric to prevent small items from falling through and keep them away from dust
• maximum weight capacity(each drawer): 11 lb for storing light items
• wheels on each drawer for easy movement

No headboard design, with pre-drilled holes for setting up your desired headboard

Cushion-padded Velvet-upholstered Side Panels
• thick and soft, provide a sense of soft-to-touch feeling

Spaced Slats
• each slat is spaced 4.5-4.6 ″ apart, providing an excellent weight distribution across the bed. On a slatted frame, air flows freely around the mattress.

No Box Spring Required
If you're currently looking for a bed frame without a headboard, consider making the most of your space by choosing one with extra storage built right in.
The Yaheetech storage bed offers an intelligent solution in the form of drawer-type storage space that's practical and easy to operate.
With smooth push-and-pull functionality, you'll be pleasantly surprised at how convenient it is to store and retrieve items from the bed.
And the best part? The four drawers provide ample storage space that rivals a wardrobe and lets you store your extra bedding, clothing, and other items safely and securely.
This bed is especially good for bedrooms with limited space. The low frame design and absence of a headboard minimize the floor space needed without minimizing style or comfort.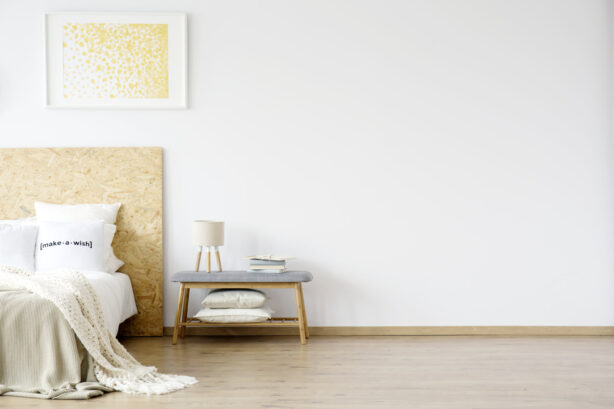 With the perfect bed in place, try these easy ideas to decorate your bed and the area around it, no headboard needed:
1. Craft a feature wall through the use of wallpaper or a mural
Whether you opt to decorate an entire wall or just a section of it, using wallpaper, stencils, or contact paper can be a cost-effective way to add some personality to your room.
Without a traditional headboard, the wall itself can become a stylish focal point that ties the room together.
2. Use curtains and fairy lights together to create a dreamy backdrop
If you want to create a peaceful and magical setting in your bedroom, drape sheer curtains in the room and then add fairy lights!
The lights shining against the sheer fabric create a stunning effect that's sure to have you feeling at peace as soon as you walk into the room.
3. Install a shelf above the bed to add extra storage space
If you need more storage in a small bedroom, adding shelving above your bed is a great way to do that.
Use the shelving to showcase your favorite books, bring greenery into your room with a few plants, or even just display your favorite knick-knacks.
Conclusion
Whether you enjoy a minimalist style when decorating, or you just want to make the most of limited bedroom space, choosing a bed without a headboard might be the right choice for you.
With the perfect bed frame for your room, you'll have a much easier time creating a bedroom with a look and feel you love.