Shopping for clothes for your kids is a lot of fun, but it does take some extra thought and effort as well.
Kids can be picky about what they wear, and you may need to consider everything from the color to the feel of the fabric.
If your child's wardrobe is in need of an update, keep these shopping considerations in mind, and consider adding these must-have kids' essentials to their closet.
Factors to Consider when Buying Kid's Clothes
Make sure to consider these factors when you're shopping for children's wardrobe essentials, to ensure clothing is comfortable and safe:
Size: Children grow quickly, so make sure to check your child's current measurements before you start shopping. Consider buying clothes with a bit of room for growth, especially for younger children.
Weather: Keep the current season in mind when deciding on what clothes to buy. Look for lightweight fabrics and short sleeves in the summer, and longer sleeves and heavier fabrics in the colder months.
Fabric: A child's skin tends to be more sensitive than an adult's, so putting some extra thought into fabrics is always a good idea. Cotton, bamboo, linen, and satin are all popular choices for soft, non-irritating fabrics.
Style: The most comfortable, well-fitting clothing is no good if your child refuses to wear it! Take style preferences into account, and look for clothing that suits them. Browse trendy online stores like Jacadi to see some of the most current styles, and ask your child which outfits they prefer. Click here to see some of the current top styles.
Must-Have Clothes for Every Kid's Wardrobe
Having a wardrobe of must-have basics makes choosing the perfect outfit much easier. Consider adding these pieces to your child's closet if you don't have them already:
Boys
Wool Sweater: A high-quality wool sweater is a versatile addition to a little boy's wardrobe. It's especially handy for layering in cooler weather, and can be an easy way to dress up an outfit in the winter months.
Straight Jeans: A well-fitting pair of straight jeans is a clothing staple that's easy to dress up or down. Pair jeans with a casual t-shirt for school, a button-up shirt for special occasions, or a hoodie for outdoor activities in cool weather.
Athletic Wear: A pair of comfortable track pants and a lightweight, moisture-wicking shirt are essentials both for playing sports and simply playing with friends.
Leather Boots: A good pair of leather boots can be paired with both dressy outfits on special occasions, and worn for everyday outdoor adventures. They're timelessly stylish and great for a rough-and-tumble little boy's active lifestyle.
Girls
Knitted Dress: A knitted dress does double duty in colder weather, working well both on its own or as a layering piece over another outfit. It's a great way to add some style to a cold-weather wardrobe.
Plain Tights and Leggings: A few pairs of durable, solid-color tights and leggings is a must-have for any girl that loves skirts and dresses. They provide coverage worn under dressier outfits, and can be worn as a base layer in the winter to add extra warmth.
Cardigan: When your little girl needs a little extra warmth, a cardigan is the perfect choice. They look great worn with both casual outfits like jeans and tops, and with dresses. And they're easy to take off and put away if the day warms up.
Accessories: Most little girls love to accessorize, so let them dress up their existing wardrobe by adding fun accessories like hair bows, sunglasses, hats, and costume jewelry. It's an inexpensive way to give new life to their current clothing.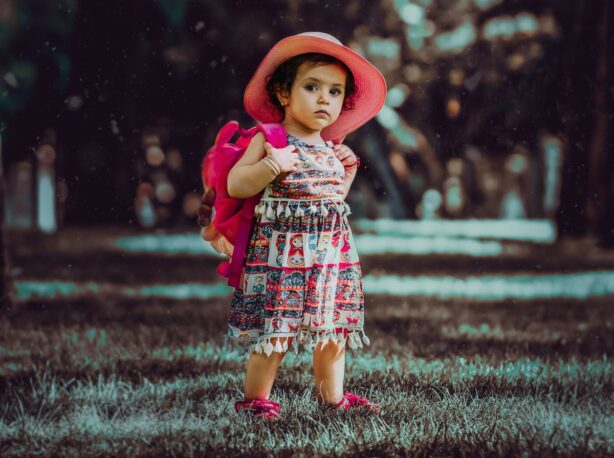 While shopping for kids' clothes is fun at first, the growth spurts may start to make it feel like a never-ending job!
But, by making sure the clothing suits your child's preferences and choosing versatile children's wardrobe essentials, having the right outfit handy for any occasion will become much easier!