When I heard the news about the opening of the new theme hotel last year at the LEGOLAND Florida Resort, I couldn't help but want to check it out firsthand. With two LEGO-crazed boys at home and a pretty solid love of the interlocking bricks myself, I was sure it would be a place to remember.
And recently, my dream came true when the LEGOLAND Florida Hotel invited us to spend the night on our recent trip to the Orlando area. With bags packed, my boys, their Nanny and I set off to see just what this new hotel had to offer.
Everything is LEGO!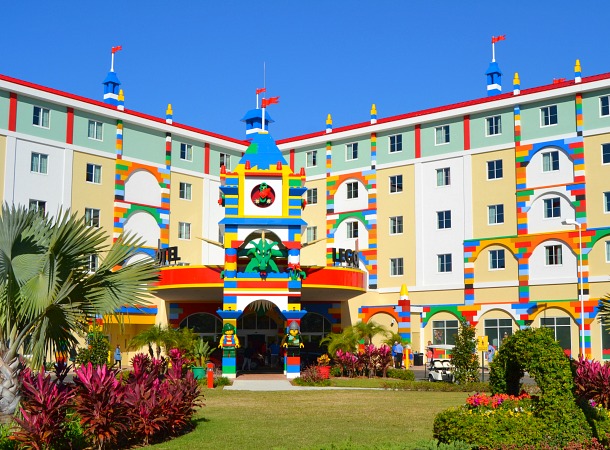 From the second we drove up to the hotel, we knew that our experience was going to be an amazing one. The exterior of LEGOLAND Florida Hotel provides a vibrant, LEGO-filled welcome that illustrates the type of experience to be found upon walking through the doors.
Almost life-sized LEGO creations, including a dragon, a knight, a pirate and more dominate the front of the hotel, while brightly coloured brick detailing on the outer walls gives the entire hotel a LEGO look. But as much as the exterior of the hotel impresses, the interior is even better.
The check-in desk was one of my personal favourite features. Behind the large LEGO man riding a bicycle (a moving feature that's an immediate draw for the eye), an entire wall of Minifigures are on display. LEGO Minifigures have always been something I loved, so I could have studied the wall in detail for hours.
The lobby also featured numerous large LEGO creations including a pirate bed big enough for a child, characters including a waiter and a porter, and another perching dragon. [Read more…]