Holiday Gift for Coffee Lovers
For some people, there's no better gift than a hot cup of specialty coffee.
And while there are many different machines available to make fancy specialty coffeehouse in the comfort of your own home, there is only one system that offers the convenience of a pod beverage maker with the customizability of a professional coffeehouse machine.
The Nescafe Dolce Gusto system combines the best of all possible worlds to help anyone make tasty, restaurant-quality beverages completely customized to their taste!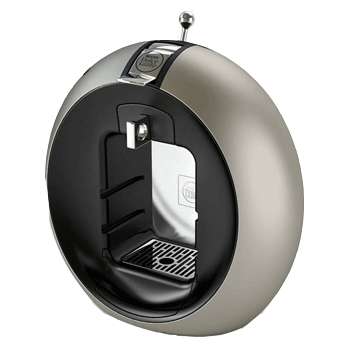 The Nescafe Dolce Gusto machines are available in a variety of styles, from the space-saving Piccolo to the programmable Melody.
My personal favourite was the very unit that I received to review, the attention-grabbing Circolo. The Circolo won the International Forum Design's Product Design award and while some feel that it is a bit of a "counter hog," I absolutely love its unique circular design.
The machine really doesn't take up much more space than my regular coffee machine and since it sits in a fairly solitary area on my counter, I don't mind the space it takes. I just love how stylish it looks on my counter!
The Dolce Gusto machines use fifteen bars of pressure to extract the maximum flavour from beverages for a true coffeehouse taste.
What really makes it different from other pod machines, though, is that I am completely in control of my beverage. After inserting the pod and locking it in place, I use the lever on the top of the unit to turn the machine to either the hot or the cold setting depending on the beverage I'm making.
I then flip the lever back to the centre when I decide that the beverage level is right.
The machine may not have the convenience of a single button, push-and-forget style of machine, but the customizability was well worth it!
I tend to like my coffee drinks stronger than my husband, and it was so nice to be able to make a cappuccino for both of us and make sure that mine had stronger espresso and his had a little extra milk!
It took me a few tries to figure out how to make a drink just the way I liked it, but once I did, I found the Nescafe Dolce Gusto beverages to be absolutely delicious.
And I loved how many varieties there were! From a Chococino to a Caramel Latte Macchiato, it really was like having a specialty coffee bar in my kitchen. There is even peach iced tea for hot summer days!
A Nescafe Dolce Gusto machine would make a great gift for any coffee lover looking for a system that offers lots of variety and customizability.
Nescafe Dolce Gusto machines and pods are available at major retailers across Canada, so check them out for yourself and give the gift of tasty coffeehouse-quality beverages all year long!
ARV: $120-$150