Recently I got the chance to attend the fabulous Roll Play Live Animal Party show featuring children's musicians Splash 'N Boots. My boys and I were so excited to be a part of the fun and let me just say, it was absolutely amazing!
Roll Play Live Animal Party was definitely not your ordinary live kids' show! It started with special face painting so that when the black lights were used during the show, the kids would look like animals! And when we got to our seats, the first request Splash 'N Boots had was for us to jump over the seats in front of us and move up even closer. Far be it for us to argue with the stars of the show!
Compared to other children's shows, all I can say is Splash 'N Boots had more! More interaction, more laughter, more improv, more dancing…for some of the younger audience members all the excitement was a little too overwhelming but both of my boys had a great time! And I enjoyed the show just as much as they did. Whether we were laughing at Splash's attempts to make the sound of an octopus or trying to catch the ribbons and bubbles that flew out over the audience periodically, the fun never stopped with Splash 'N Boots and their Roll Play friends!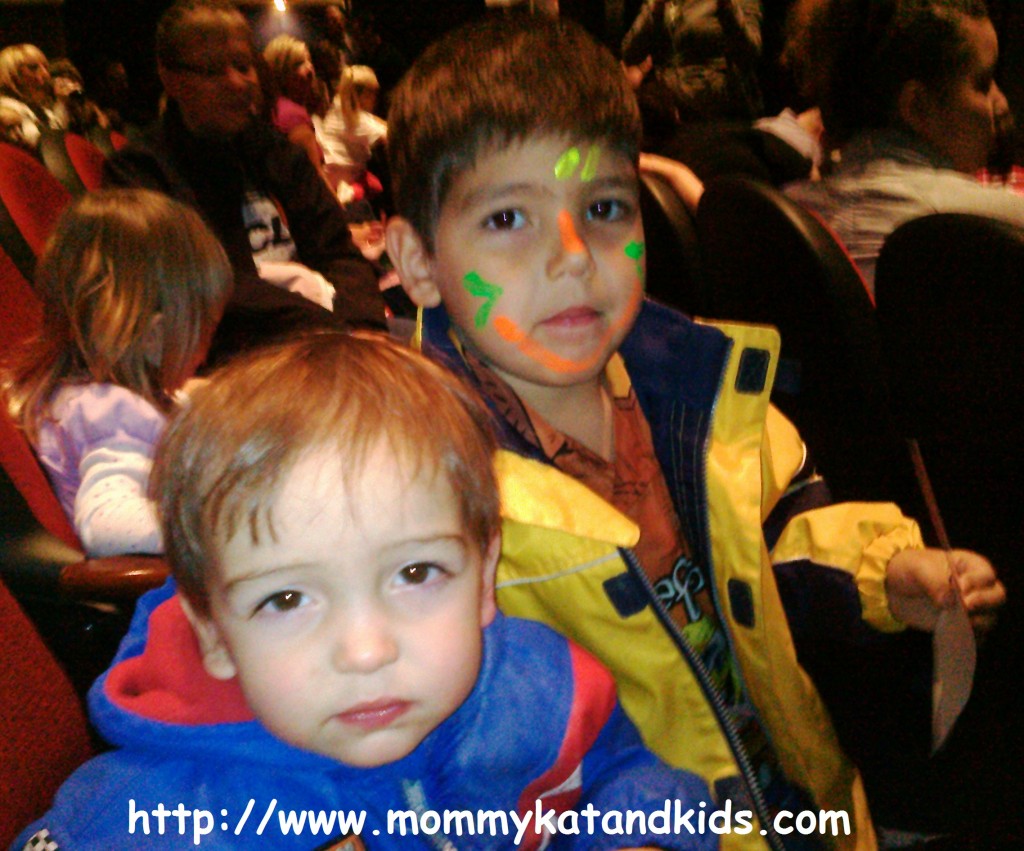 Splash 'N Boots met with their fans and signed autographs after the show and I was hoping to get the chance to meet them, but all the singing, dancing and playing completely exhausted my two sons and I knew there was no way they could stay on their feet much longer. How awesome is it that I could take my boys to a fun children's show for both entertainment and exercise?
When we got home, Benjamin immediately wanted to "watch Treehouse," his way of saying that he wanted to see the show again. He got so upset when I told him that the show wasn't on Treehouse, but fortunately I remembered that we had a copy of the brand new Splash 'N Boots DVD, Act 2! He was immediately pacified and sat down with his older brother to enjoy even more Splash 'N Boots.
The DVD is a fun mix of skits, songs and stories that my boys absolutely loved. With funny costumes, silly acting and, of course, music, Act 2 kept my boys entertained from beginning to end and fully satisfied Benjamin's desire to see "Pash Boots" again. If you have Splash 'N Boots fans in the house, this DVD is a great purchase.
I highly recommend checking out Splash 'N Boots Roll Play Animal Party, though if you have a child that is sensitive about loud music and flashing lights you may want to sit back from the stage a little. And as if all the fun of the show wasn't reason enough to check it out, select shows will even be recorded for a future show on Treehouse TV! So check the website for a show near you and get ready for fun and games with Splash 'N Boots!
Buy It: To purchase tickets to the Roll Play Live Animal Party shows, visit www.rollplaylive.ca. To purchase Splash 'N Boots Act 2 or other great Splash 'N Boots products, visit www.splashnboots.com
Disclaimer: The product/s mentioned above were provided free of charge from the company or PR firm in exchange for being featured on Mommy Kat and Kids. Opinions expressed belong to Mommy Kat and Kids and are NOT influenced in any way. Please view full Terms of Use and Policies