This post is sponsored by Country Crock. I was selected for this opportunity as a member of Clever Girls Collective, and the content and opinions expressed here are all my own.
When it comes to veggies, my boys are a little bit picky. Zackary loves raw vegetables but shies away from them as soon as they're cooked. Benjamin will eat huge amounts of corn and turns his nose up at almost everything else. And I'm left trying to cook a nutritious side dish that both of them will love when dinnertime rolls around!
That's why I was so excited when I got the chance to test out one of the tasty-looking recipes in the new A Very Veggie World cookbook by celebrity chef Clare Crespo, available free on the Country Crock website! Looking through the beautiful and creative recipe choices kept me entertained for hours, but I finally decided to try the cute Lighting Bolts recipe.
For me, the highlight of this recipe was that it was quick and easy. I just cut the cauliflower into florets, cut the carrots into lengthwise slices, added some triangular cuts to create "lighting bolts" and then steamed the two vegetables quickly along with a handful of frozen sweet corn.
Once the veggies were steamed to perfection, I just had to arrange them on the plate so that the carrot lightning bolt looked like it was shooting out of the cauliflower storm cloud, with droplets of corn kernel rain providing the finishing touch! A drizzle of melted Country Crock Original and a little salt and pepper and my masterpiece was complete!
We spoil ourselves with pizza for supper every Friday and so I added a slice of pepperoni and bacon pizza to each of my boy's plates as well and presented them with their supper. They both loved the presentation, but Zackary studied the cooked vegetables with a very suspicious look. "I made you this special lighting bolt cloud, so you'd better at least try it!" I told him.
He hesitantly broke off a piece of cooked cauliflower and popped it in his mouth. "I forgot I never tried this before, Mom!" he exclaimed with wide eyes. "It's good!" And he wasn't just trying to make me happy either; to my surprise he actually ate the entire thing. I could tell he really enjoyed the buttery taste that the Country Crock gave to the vegetables!
Benjamin, on the other hand, ate every corn kernel raindrop on his plate, sneakily gobbled up most of his brother's corn as well when Zackary was distracted and then requested more corn afterwards! His cauliflower and carrot were left for me to finish, but if he had a good serving of vegetables with his meal, that's a win in my book!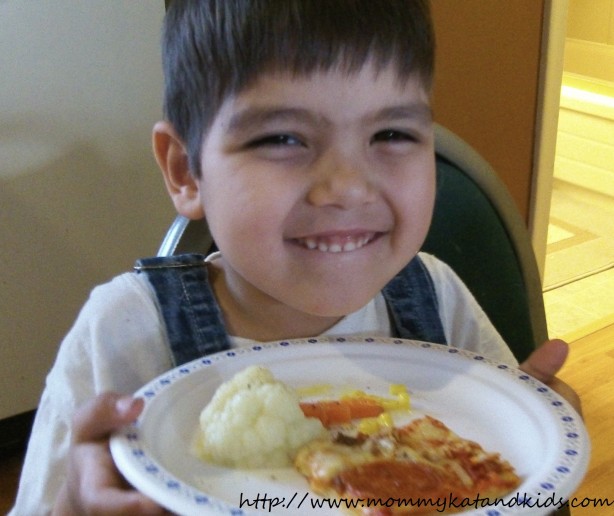 I can't wait to try some of the other recipes in the Clare Crespo cookbook. One of the things I love about these recipes is that not only are they delicious, they are also so attractive and fun! I think next time inspiration strikes I'll be trying the adorable Zucchini Boats; I love the little orange pepper sails! But when baseball season starts, I'll have to make Out of the Park Baseballs, cute balls of mashed potato garnished with red pepper, for Zackary!
Are you looking for quick and simple tips and recipes to make serving veggies more fun? Download thefree Clare Crespo Cookbook here for fun and whimsical recipes your family is sure to love!
Veggie Lightning Bolts Recipe
A fun and easy way to get kids excited about eating their vegetables!
Ingredients
3 carrots, peeled, trimmed and sliced in half lengthwise
1 small head of cauliflower, cut into florets
1 cup corn kernels (cut off a cob or frozen)
3 Tbsp. Country Crock® Spread, melted
1/8 tsp. salt
1/8 tsp. white pepper
Instructions
Cut carrot slices into zigzag shapes to resemble lightning bolts.
Place 1 or 2 inches of water in a large pot. Place carrots, cauliflower and corn in steamer basket and place in pot.
Cover and steam for 7-10 minutes until vegetables are tender. Drain vegetables.
Place carrot pieces on plate. Place cauliflower florets above carrots so they resemble a cloud. Sprinkle corn kernels over top to resemble raindrops. Continue with the rest of the vegetables.
Drizzle Country Crock® Spread on top and sprinkle with salt and white pepper.
Nutrition Information:
Yield:

6
Serving Size:

1
Amount Per Serving:
Calories:

72
Total Fat:

4g
Saturated Fat:

1g
Trans Fat:

0g
Unsaturated Fat:

3g
Cholesterol:

0mg
Sodium:

112mg
Carbohydrates:

9g
Fiber:

2g
Sugar:

3g
Protein:

2g