One of the things that always drives me nuts about my boys is that I can never seem to find a pair of pants for them that fits right. If the pants are the right length, then they're too loose in the waist. If the waist fits right, the pants are too long or too short. It's a never-ending hunt for the perfect jeans.
When Zackary was younger, I discovered the Dapper Snapper, a clever kids belt designed to turn droopy drawers into perfect-fit pants in seconds. It's a simple length of elastic with snaps in four different places. By looping the elastic through the back belt loops of a pair of pants, the waist is cinched so that pants stay put!
But the true genius of the Dapper Snapper is that since it's made of elastic, it doesn't hinder a young child from pulling their pants up and down when they use the bathroom. One of the things that makes belts inappropriate for younger children is the fact that they usually interfere with a child using the bathroom unaided. That's not a concern with Dapper Snappers!
Zackary has used a Dapper Snapper for a couple of years now, but when I got the chance to receive another one, I leapt at the chance. Benjamin has been in desperate need of a Dapper Snapper toddler belt of his own and I was eager to see if it would work as well for him as it had for his brother. We received a navy blue Dapper Snapper and I found one of Benjamin's many pair of pants that were too loose in the waist. I looped the Dapper Snapper onto the back of the pants and snapped it into place. Then I checked the fit on Benjamin.
One of the nice things about the Dapper Snapper is that it has more than one set of snaps so that the fit can be adjusted for children between nine months and six years of age. Benjamin needed the Dapper Snapper adjusted to the smallest size for this pair of pants and once it was snapped on, he ran off to play with his brother. The Dapper Snapper did a great job of keeping his pants around his waist where they belonged and he didn't seem to notice he was wearing it.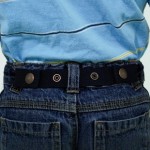 The only real limitation of the Dapper Snapper is that it can only be used on pants that have belt loops. For the most part, this is just fine since the only pants Zackary and Benjamin wear that don't have belt loops usually have an elastic waistband already, but if your child has lots of clothing without belt loops, Dapper Snapper even offers an ingenious clip set that lets you use a Dapper Snapper on clothing without belt loops!
If you have a child that's frustrated by a slouchy waistband, Dapper Snappers want to help! They're offering one lucky Mommy Kat and Kids reader a $25 gift certificate good for any of the great products on the Dapper Snappers website! Dapper Snappers are an easy and effective way to tighten the waist on a pair of pants without hindering a child's independence. Check them out and say goodbye to droopy drawers!