If there's a more delicious pasta dish than my mom's famous Spinach Lasagna, I haven't discovered it. But as most cooks know, lasagna is a pain to make! Cooking the noodles, making the sauce, layering, baking…it really does take hours by the time it's finally finished!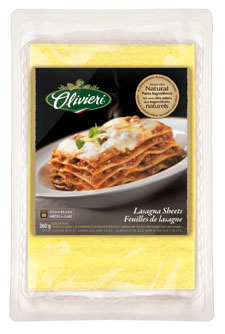 Fortunately, Olivieri has expanded its line of scrumptious fresh pasta and sauces to include handy lasagna sheets; fresh sheets of pasta perfect for lasagna that require no precooking! I recently received some coupons to try out the new lasagna sheets for myself and I couldn't wait.
For me, there's only one way to use lasagna noodles, so I picked up a package of the Olivieri Lasagna Sheets and the other ingredients I would need for Spinach Lasagna and then got cooking!
The lasagna sheets were so easy to work with; they were larger than traditional noodles and since they were fresh, cutting the sheets to fit perfectly into the pan was easy. Also, because they didn't have the ridges that are on the edge of dry lasagna noodles, I was able to fit an extra layer of lasagna goodness into my pan!
Want to give these easy-to-use noodles a try? Listen up because Olivieri is offering two lucky Mommy Kat and Kids readers three free product coupons so that you can create your own favourite pasta dish using Olivieri fresh pasta! To enter to win, just leave a blog comment letting me know what special ingredient you love in your lasagna! And for the latest news and promotions from Olivieri, don't forget to stop by and like the Olivieri Facebook page!
At about four dollars a package, Olivieri Lasagna Sheets cost about twice as much as a box of dried lasagna noodles but the amazing taste and texture of the noodles, not to mention the time they save, make them worth spending a few extra dollars in my opinion! Check them out for yourself and whip up your favourite lasagna recipe quickly and easily!