I am addicted to cookbooks. I have a cupboard full of them and I am always looking for new ones to add to it.
There's something about sitting down and flipping through a cookbook that I just love and the ones with my family's favourite recipes are essential to me.
When I was in my twenties, I bought a cookbook called Crazy Plates by sisters Janet and Greta Podleski.
I fell in love not just with the recipes, which were tasty, healthy and original, but also with the entire style of the cookbook.
From catchy recipe names to cute one-liners to fun facts about special foods and ingredients, this was no ordinary cookbook! The fact that it's such an enjoyable read is part of why it became one of my kitchen staples.
Now Janet and Greta are at it again with their brand new cookbook The Looneyspoons Collection. This is the cookbook that the sisters describe as "the book they were meant to write."
And I was recently lucky enough to get to review it and see for myself if it was as fun and fantastic as my well-worn copy of Crazy Plates.
The Looneyspoons Collection is no ordinary cookbook. It contains recipes from all three of Janet and Greta's previous cookbooks, meals from their hit cooking show and some recipes that are completely new!
And, even better, many of the recipes from the earlier cookbooks have been completely reworked to incorporate new knowledge about nutrition to be healthier than ever.
But just like those previous cookbooks, The Looneyspoons Collection was as much fun to read as it was to cook with! I had a blast learning about the origins of some of my favourite foods, giggling at the clever jokes and marvelling over the clever recipe names.
In fact, my boys liked it just as much as I did; they had so much fun flipping the pages and listening to me loudly proclaim, "The Roast of Christmas Past! Bon Bon Jovi! Darth Tater!"
Of course, as much fun as reading the cookbook was, I couldn't really put it to the test without creating one of the mouth-watering recipes for myself.
After a lot of deliberation, I decided on the Shockolate Cheesecake, which promised a rich and creamy taste with just a shocking ten grams of fat!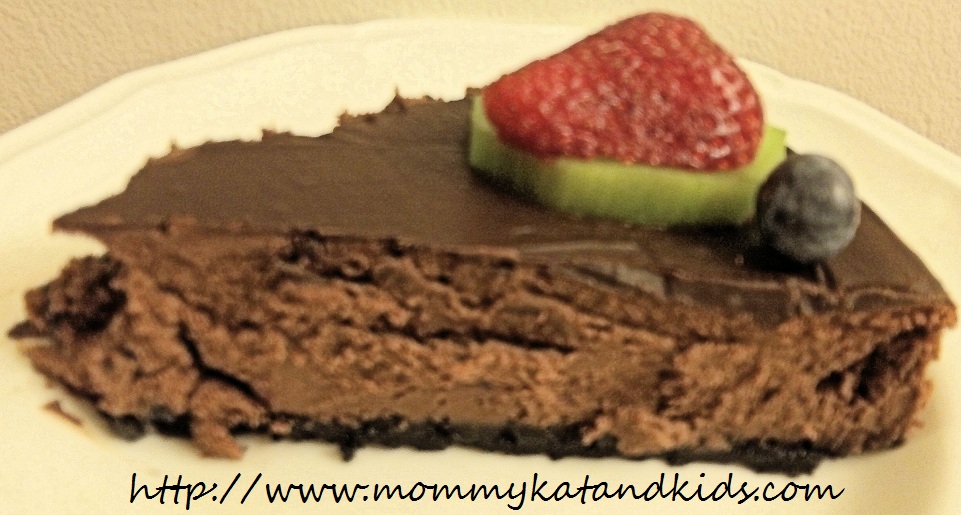 I wasn't disappointed. The cheesecake used cottage cheese and sour cream with low-fat cream cheese to create the rich cheesecake texture I loved without all the fat.
To make this cake taste its best, a blender is essential. If the mixture isn't perfectly smooth, it just won't taste as great.
I switched the presentation up a bit by covering the top in a thin layer of chocolate instead of swirling it on as the recipe suggested and by adding some of my favourite fruits. The finished cake was a hit with the whole family!
No matter whether you're looking for a better-for-you breakfast, a meaty main course that won't weigh you down or a delicious dessert that only tastes sinful, The Looneyspoons Collection is sure to have a recipe you'll love.
And it's a must-have for any cookbook collector! The Looneyspoons Collection is available in stores or at Amazon.com now so check it out for yourself and have fun with your food!