Summer vacation is a time for lots of fun outdoor activities and family bonding, but summer is also a time when parents sometimes desperately need to get work done while kids are getting in the way looking for something to do! This summer, Nickelodeon Canada wants to help you prepare for those moments with a little help from everyone's favourite sponge…SpongeBob Squarepants!
If you have school-aged children in the house, you're probably already familiar with the cheerful sponge, his starfish best friend Patrick, his grumpy co-worker Squidward and his meowing pet snail Gary. And if you haven't heard of SpongeBob before, never fear! Unlike some children's shows, SpongeBob Squarepants is actually pretty enjoyable viewing for adults as well as kids!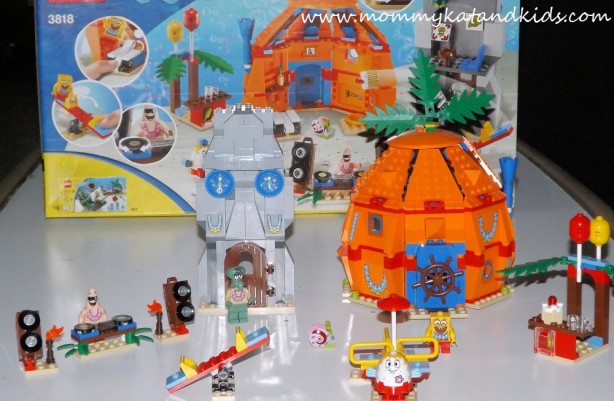 And now, SpongeBob is squarer than ever before as he enters the world of LEGO! The new LEGO SpongeBob Squarepants Bikini Bottom Undersea Party set is the perfect boredom-busting toy for kids between six and eleven years of age and I was delighted when we were able to review the set for ourselves.
This fabulous building set contains 417 pieces and features four SpongeBob Squarepants mini characters, moving and rotating parts and tons of fun extras! I sometimes wait a few days before opening a new toy that I've received but this set was too much fun to save for a minute! We opened the box as soon as we had it in the house.
Zackary's favourite feature of LEGO sets is the mini characters; he loves creating imaginative stories with the little people. So before I even started to build, I had to put together SpongeBob, Patrick, Squidward, Mrs. Puff and Gary for Zackary to play with. And of course, Benjamin had to be involved as well! This set is absolutely not intended for toddlers or preschoolers but Benjamin has learned a lot about how to play with smaller toys by watching his big brother so as long as he is being supervised he usually plays right along with Zackary.
The set has all kinds of fun little details that will keep kids entertained for hours. From a working merry-go-round and teeter-totter to a drink stand with tiny mugs and a Popsicle to a DJ turntable with rotating records to the houses of SpongeBob and Squidward (complete with furnishings), this set was instant inspiration for Zackary's imagination. He loved jumping the characters around from place to place and I had so much fun listening to the dialogue he created between the characters!
On the day we opened the box, Zackary and Benjamin played with the set until they had to go to bed and every day since they have taken it out at least once a day. And the mini characters have become such a hit with my boys that Zackary and Benjamin will often carry them away to play with some of their other favourite toys. In fact, a few days ago I found Patrick sitting like a tiny driver inside of one of my boys' toy dump trucks!
If you're looking for a fun new toy that will keep your kids happily playing for days, the LEGO Nickelodeon SpongeBob Squarepants Bikini Bottom Undersea Party building set is a great choice for your little trooper just out of school. Check it out for yourself and let your kids enjoy plenty of creative playtime this summer with SpongeBob and his friends!