I honestly don't buy my children a lot of toys. I tend to mainly shop for things like puzzles, games, books and clothes and leave their toy supply in the hands of their loving aunts, uncles and grandparents. This has worked very well so far but it does get hard to say no when they find something in the store that they really want. In those cases I will save it for a special occasion such as a birthday or Christmas.
So when I was given the chance to review the brand new Winx Club fashionable fairy dolls as part of the Nickelodeon Moms program, I didn't mention a word to my girls and rather let them ponder the big box that showed up on our doorstep last week. That way when they dug in and discovered the exciting toys inside, it was like a magical delivery on an otherwise ordinary day!
Watching my daughters pull out each member of the Winx Club 11.5" Deluxe Believix Dolls set was a wonderful moment. As the dolls were removed from the shipping box one by one, my daughters were shrieking with delight and providing me with thorough descriptions of the dolls' hair color, wing color, clothing and boots. The girls even woke up their dad, who had to come down and begin freeing each doll from her packaging immediately! My 2-year-old Isabell picked up the short haired Tecna doll and said, "Me!" Then my 5-year-old Anna chose her fairy look-alike: the red haired Stella. Now whenever they play, those dolls are automatically spoken for and the others get divided differently each time.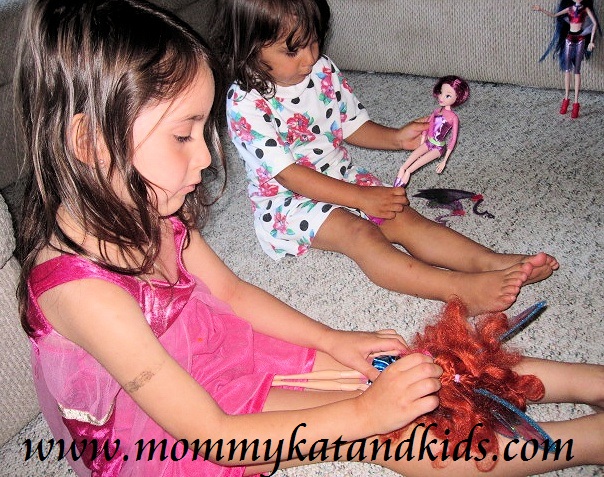 The Winx Club dolls are based on characters from a fantasy adventure series launching this year on YTV and Nickelodeon Canada called Winx Club. The show has been a hit in the United States and now, for the first time, Canadian girls can follow the adventures of Bloom, Stella, Flora, Musa, Tecna and Aisha, who attend the finest fairy school in all the realms, Alfea College. Savvy and smart, the friends are also playful and fashion forward. And when trouble arises, the Winx Club girls transform into beautiful fairies that use their magical powers to fight villains and save the world from evil. Each fairy has her own personality traits and hobbies, so there is really a character for every girl to relate to.
The Winx Club fairy dolls are any girl's dream toy. Each one has a unique wing design with a sparkling glitter edge. They each have an original fashion and hairstyle. The dolls are also very easy to position into different actions such as walking, sitting, eating and waving because of their many movable joints. And the wings are even removable so that they can transform between their human and fairy forms during play just like they do in the animated TV show.
Since the series is new to Canada, Nickelodeon sent us a preview of Winx Club so that my girls could experience it firsthand. We put it on one evening for the girls to watch before bed and they both loved it. The six fairy friends Bloom, Stella, Flora, Musa, Tecna, and Aisha meet at fairy school and form a friendship strengthened by their efforts to fight evil villains. The show obviously made a strong impression on Anna because the next day we had to reenact the entire show and the only other TV show she has ever wanted to "play" is Dora the Explorer! Clearly the Winx Club TV series is going to become a new favourite in this house.
For more information on the Winx Club product line and to check out the available dolls and accessories, visit www.toysrus.ca/. And when you get a Winx Club fairy doll for your special girl, remember to visit www.nick.com/winx to unlock the exclusive content that comes with each fairy doll in the form of a shimmering membership card!
The Winx Club dolls, TV show and online content have provided a ton of fun in our house and I am sure that any young girl would be thrilled to find one of these beautiful dolls waiting for her one morning. So check out the show and the dolls for yourself and get ready for hours of fairy fun with Winx Club!