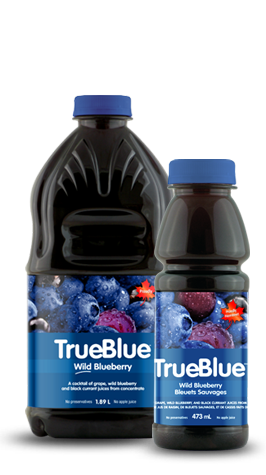 Ah summer! The time of outdoor gatherings, family vacations, seasonal menus and refreshing beverages! I love a sparkling cold drink in the summertime, but I've never been a fan of what too much soda does to my teeth or my waistline! So when I received a package of TrueBlue and TrueBlack beverages along with some fun summer recipes that packed the power of superfruits, I was excited to give them a try.
I received four varieties of juice to test out and they looked so good that my boys and I just poured the first two bottles over ice and drank them down! TrueBlue and TrueBlack juices are available in TrueBlue Wild Blueberry, TrueBlue Wild Blueberry Lemonade, TrueBlack Blackberry and TrueBlack Black Currant varieties and are made in small batches with premium ingredients. They are also free of additives, preservatives, filler juices and artificial flavours.
Before we gave into temptation and finished every bottle, I knew I had to try one of the scrumptious-looking drink recipes so I decided to make the TrueBlue Party Punch. I loved that it was non-alcoholic so that my boys and I could both enjoy it!
TrueBlue Party Punch

Ingredients:

2 cups (500ml) TrueBlue Wild Blueberry
2 cups (500ml) ginger ale
1 cup (250ml) orange juice
2 tbsp (30ml) lemon juice

Directions:

Mix juices together in pitcher or punch bowl. Gently stir in ginger ale just before serving. Add ice or frozen fruit and serve.
I streamlined the process by eliminating the lemon juice and using TrueBlue Wild Blueberry Lemonade instead of the suggested TrueBlue Wild Blueberry. The nice thing about this recipe was that I could make it in individual glasses by mixing two parts TrueBlue Wild Blueberry Lemonade, two parts ginger ale and one part orange juice. I added frozen mixed berries instead of ice cubes and the boys and I drank it down!
The taste was tangy, fizzy and very refreshing. And while it still has quite a bit of sugar in it and I wouldn't recommend having it every day, I loved the fact that when we did have a special occasion beverage, it could be a little healthier thanks to the high levels of antioxidants and natural ingredients in the TrueBlue and TrueBlack juices!
Leading Brands wants to give you the chance to try out some tasty antioxidant-rich refreshments too, so the company is very generously offering one lucky Mommy Kat and Kids reader a gift box containing the same four varieties of TrueBlue and TrueBlack juice as I received! To enter to win, just leave a blog comment about which variety of juice you are most looking forward to trying. And don't forget to check out some of the other tasty TrueBlue and TrueBlack recipes on the website too!
I really enjoyed the TrueBlue and TrueBlack juices and whether I used them to mix up fancy cocktails or just had a glass of TrueBlack Blackberry juice over ice, I appreciated the fact that I was getting potent antioxidants with every sip. If you want to add some extra flavour and some extra nutrients to your summer beverage, why not pick up a bottle of TrueBlue or TrueBlack and give it a try? It's a healthier way to quench your thirst and satisfy your sweet tooth!
a Rafflecopter giveaway