My boys are just starting to get to the age at which they can play games together instead of always just making up stories with their toys.
Benjamin has a little bit of a problem taking turns sometimes but with some guidance, he and his brother both have a great time playing simple board games together. So when I got the chance to review Hold On Scooby Doo, a fun new game from RP Toys, I was delighted.
This game take the concept of stacking and balancing that is found in some other games to a new, kid-friendly level with a spooky ghost wall, plastic ghost hand pieces to push out bricks and a hilarious Scooby Doo and Shaggy figurine to balance on top of the wall.
Basically, players use the ghost hands to push bricks out of the wall and see which one will make Scooby Doo and Shaggy fall first.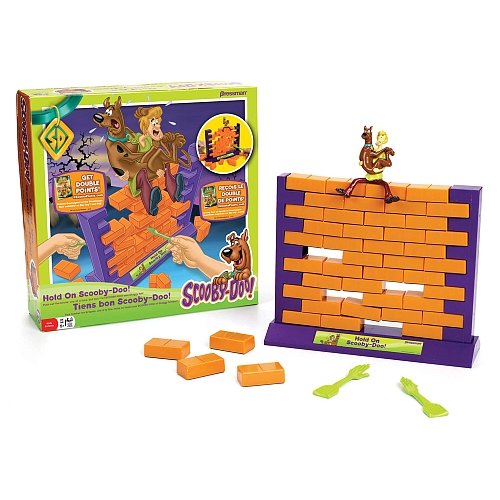 I stacked the bricks into the frame for the boys and then Zackary carefully balanced Scooby Doo and Shaggy on top. After that, the fun really started!
The boys had such a blast pushing out the bricks one by one and it when the figurine finally tumbled down, they both laughed hysterically.
Occasionally, Benjamin would get a little excited and push out a large number of bricks all at once just to see the characters fall off the wall, but overall both boys had a great time playing this game. It had a nice simple concept that was made especially fun by having some of the boys' favourite cartoon characters featured!
This game is perfect for younger children to play either by themselves or with a parent and my boys even liked building with the bricks and creating imaginative scenarios for Scooby Doo and Shaggy to face!
Update: While Hold On Scooby Doo is no longer available in stores, it can be purchased very inexpensively on ebay.com! So, if you have children that love playing games together, check out Hold On Scooby Doo for yourself. It's spooky good fun for the whole family!