When I was in my twenties, I discovered the great taste of organic coffee. Rich, mellow and complex, it was a completely different experience than the regular store brand I'd always had in the past.
I've tried a few different brands of organic coffee since then but I had never heard of Weaver's, so when the company contacted me about reviewing its handcrafted organic coffee and tea, I leaped at the chance.
Weaver's is a true artisan brand that was started by John Weaver, a man recognized as one of the most accomplished coffee roasters and tasting experts in the world.
And now for the first time, this specialty organic coffee and tea is available in Canada at select stores! I received a fabulous package of Weavers coffee and tea to review and I was so excited to brew up a pot.
I decided to try the Weaver's Espresso Blend first. I love rich, dark coffee that packs a punch and I was sure that the Espresso Blend would do just that.
Weaver's coffee is available either ground or as whole beans, and to get the full experience of the coffee's flavour I chose whole bean coffee.
I ground up the beans and brewed a pot of black coffee, but before it had even finished I knew I was in for a treat; the smell in the house was absolutely incredible!
The Espresso Blend had all the dark taste I had expected and was incredibly rich and satisfying. I wasn't sure how the Weaver's Astral Blend coffee I had received as well would compare; it was described as being sweet, smooth and sassy and I generally like bolder coffee.
But when I tried it, I was pleasantly surprised; the flavour is bright and strong and incredibly tasty. I actually preferred the Astral Blend overall but in the evenings, the more dark and mellow flavour of the Espresso Blend is fabulous.
While I do love my coffee, I'm also a huge tea drinker so I was just as excited to test out the Weaver's bagged and loose-leaf tea I had received.
I've always had a fondness for black tea so I tried the Weaver's Mango Black tea first. I absolutely loved how the fruitiness of the mango blended with the black tea and with just a splash of milk it was absolutely heavenly!
I'm not a huge fan of green tea, but the Pomegranate Green was a great way of getting the health benefits of green tea without as much of the strong, grassy flavour.
And for an afternoon chatting with friends, the Roobis Mandarin was the perfect sweet and palate-pleasing blend.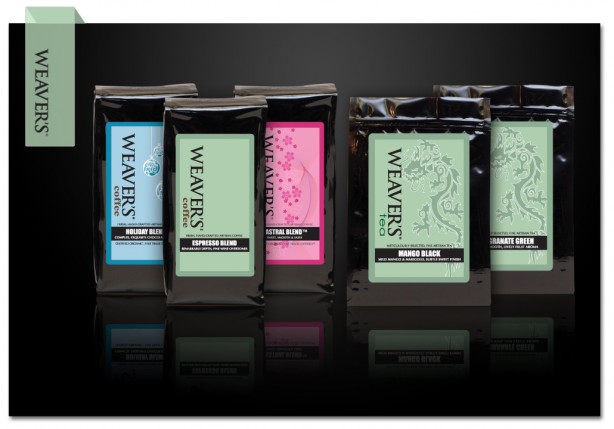 As a lover of coffee and tea, I've tried quite a few varieties of both over the years but Weaver's really is something exceptional.
The flavours are complex and balanced in a way that makes the beverages stand out. I highly recommend you pick up a bag of Weaver's and discover the difference for yourself!