Over the last few weeks I've shared a bit of information about Baby Organic Joy and its eco-friendly products for babies, toddlers and preschoolers. Now Baby Organic Joy want you to have the chance to check out some of its products for yourself, so the company is hosting three amazing giveaways of some of its most popular products!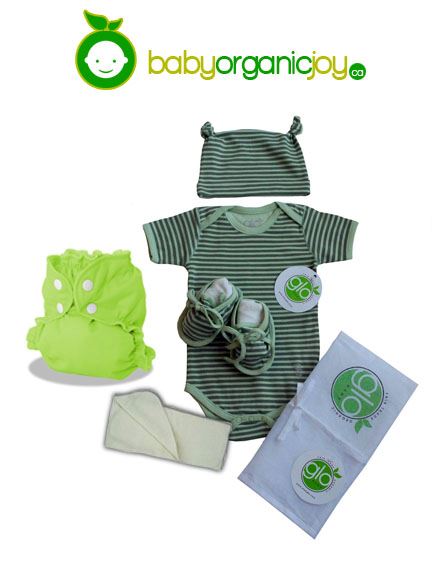 I'll be giving away one of Baby Organic Joy's Signature Custom-Made Gift Sets containing an AppleCheeks Cloth Diaper Envelope Cover in Appletini, an AppleCheeks One-size Rayon from Bamboo Insert and a Glo Baby Onesie, matching hat and booties in Green Stripe. I am such a strong supporter of cloth diapering and AppleCheeks are one of the easiest to use and most attractive brands of cloth diapers on the market. And who could resist the organic cotton Glo Baby outfit!
With a total retail value of $70, this adorable prize pack will have your precious little bundle of joy looking fabulous! To enter to win, just check out the Baby Organic Joy website and leave a blog comment about another product that you'd love to have for your little one. Baby Organic Joy specializes in creating custom-made gift sets like this for all the special occasions in your little one's life, so check out the site and see what items might make a perfect package for you! And make sure to stop by Mommy Moment and Mom vs. the Boys for a chance to win two other fabulous packages from Baby Organic Joy!