Over the last few years, I have become a bit of a beauty and skincare addict. At thirty-one, my skin still looks fairly youthful and I really want to keep it that way.
I also deal with monthly breakouts and am always looking for a way to minimize that annoyance. So I eagerly accept the chance to test out new skincare products that might help my skin look its best.
When I received the chance to review the new NatuRoyale Biolifting skincare line from Annemarie Borlind, a company that specializes in natural and scientifically proven skincare solutions, I looked forward to seeing just how well the natural ingredients would treat my skin.
This line is designed to provide maximum anti-aging benefits and while I wasn't at the stage of needing such a rich and intensive treatment, I was still curious to see what kind of changes it produced in my skin.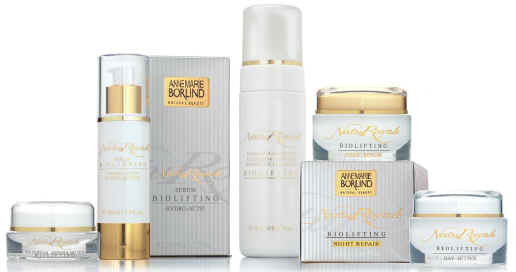 I received a mini set of the new NatuRoyale line containing Lifting Serum, Day Active cream, Night Repair cream and Eye and Lip Contour to review.
I simply cleansed my skin with my favourite cleanser, applied the Lifting Serum and then finished with either the Day Active or the Night Repair depending on whether it was morning or evening. A final quick application of Eye and Lip Contour and the regime was complete.
The Lifting Serum was something that I fell in love with almost immediately. It really made my skin feel firm and smooth right after using it and it evened out my skin tone beautifully thanks to the sand lily extract in the serum.
I was hesitant about using the Day Active and Night Repair with white truffle because they were unbelievably rich and thick and I was somewhat concerned that applying either of them too thickly would aggravate my breakouts.
So, I kept my use of the creams quite light, applying only a thin coat to my face and concentrating on my cheeks and eye area rather than my T-zone.
After a few weeks of using the NatuRoyale Biolifting system, there were a few things that I noticed. The first was that my breakouts hadn't gotten any worse using the products. The Lifting Serum especially seemed to actually help tone my skin to minimize my acne and I loved how fresh and clean it made my face feel.
I also noticed that my cheeks and eyes were smoother and more even. The slight wrinkles at the corners of my eyes were softer and some of the uneven colour on my cheeks and the rest of my face had been minimized. Even the redness from my acne scars was reduced!
I loved being able to ensure that my skin stayed firm and youthful without having to worry about a sudden acne flare-up, something I've had issues with using other anti-aging skincare regimes.
I loved how effective this nourishing anti-aging system was, and the natural organic ingredients were so gentle on my skin and made a huge difference in my appearance. I had actually been dealing with especially bad breakouts over the last month before starting the system and the difference in my skin was incredible after just a few weeks.
If you need a luxurious and effective anti-aging regime for your skin, check out the new NatuRoyale line for yourself. With proven results in just four weeks, you're sure to be impressed by the way science and nature come together to improve the look of your skin!