Breakfast is the most important meal of the day, but it does bring challenges, especially on a busy weekday morning! Recently Minute Maid conducted a national poll to see just how Canadians approach that all-important morning meal:
Solo eaters: Eight in ten Canadian families don't sit down for breakfast together
Do as I say, not as I do: While most Canadian parents would feel worried (41%), guilty (27%) or disappointed (31%) if their children went a day without breakfast, 14% of parents still skip breakfast themselves
Timing the challenge: Two in five Canadian parents say their biggest breakfast challenge is lack of time to prepare; a third say it's a lack of time to eat in the morning at all.
In my own province, a lack of time to prepare breakfast was found to be the biggest morning challenge and I can certainly relate to that! Between packing lunches, getting my boys dressed for school and bundling us all up to face the cold winter weather, there's not a whole lot of time left to cook a hearty breakfast! Fortunately, Minute Maid has partnered with the Canadian Living Test Kitchen to create some recipes that are both hearty and convenient. I decided to try the Berry Rolled Oat Rounds since both my boys are big fans of oatmeal.
Berry Rolled Oat Rounds
Ingredients
1

cup

plus 1 tbsp Chilled Minute Maid Mixed Berry Juice Beverage

1

cup

frozen mixed berries

1

tbsp

cornstarch

1¼

cups

all-purpose flour

½

tsp

salt

½

cup

unsalted butter

cold and cubed

2

cups

large flake rolled oats

¾

cup

packed brown sugar

½

cup

Minute Maid Chilled Mixed Berry Juice Beverage

½

cup

dried cranberries

½

cup

dried cherries
Instructions
Berry Jam: In saucepan over high heat, bring 1 cup of the juice beverage and berries to boil. Reduce heat to medium-high and keep at high simmer until reduced by about one-third, about 15 minutes.

Whisk 1 tbsp remaining juice beverage with cornstarch until no lumps remain; add to saucepan and stir over low heat until thickened, about 30 seconds. Let cool completely. (Make-ahead: Refrigerate in airtight container for up to 3 days.)

Rounds: In bowl, whisk flour with salt. Using pastry blender, cut in butter until in fine crumbs with a few larger pieces. Stir in oats and brown sugar. Mix in juice beverage, cranberries and cherries until dough holds together but is still slightly crumbly.

Using scant 1/3 cup dough for each round, shape into 8 discs about 1 inch (2.5 cm) thick. Holding edge of disc with fingers, press gently with thumbs and shape into well in centre; place 2 inches (5 cm) apart on parchment paper-lined baking sheet. Bake in 350⁰F (180⁰C) oven for about 20 minutes or until rounds no longer look wet and bottoms are browned. Let cool on baking sheet.

Spoon about 1 tbsp jam into centre of each round. (Make-ahead: Store in single layer in airtight container for up to 3 days.)
The idea of cookies for breakfast was something that both my boys could get excited about, but the filling, nutrition-packed Berry Rolled Oat Rounds were something I could be happy about too! The only change I made, after enduring months of winter weather, was to use Minute Maid Mango Juice Beverage instead of the Mixed Berry to give a little tropical touch to our treats. And while both boys enjoyed the rounds, it was the Berry Jam that was the big hit. Seeing as how it was so low in sugar, I was fine with that!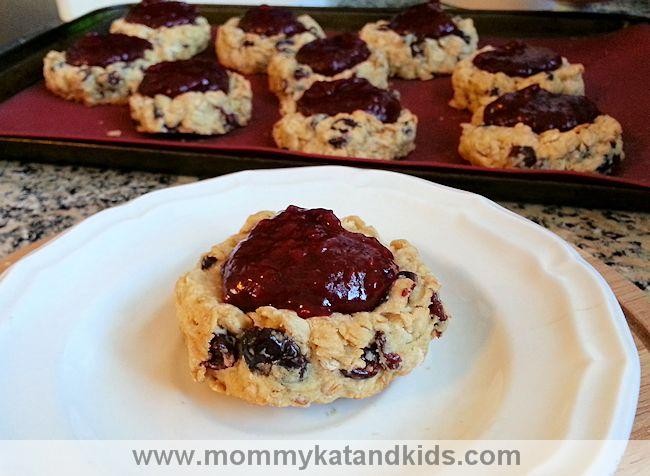 Best of all, by baking the rounds in the afternoon and then storing them in a container on the counter, the entire family could enjoy a filling breakfast in no time at all. And Minute Maid has many more tasty recipes to streamline your breakfast routine at minutemaid.ca and on the new Minute Maid Pinterest boards too! Why not whip up these rounds for your little ones this week? Or take a look at one of the other delicious recipes from Minute Maid and the Canadian Living Test Kitchen that can help make breakfast in your household the most enjoyable meal of the day as well as the most important!