While the start of a new school year is always exciting, it's also pretty hectic. That's especially true in the mornings! Between packing lunches, checking homework, signing agendas and making breakfast, I sometimes feel like I've worked a full day just getting the boys off to class!
All that hustle and bustle means that breakfast is sometimes pretty unimaginative. That's why this year I've come up with four easy breakfast ideas for kids that are healthy, kid-friendly and ready in five minutes or less! When breakfast is this simple, there may just be time to spare on school mornings.
Savoury – Breakfast Bagel Bites with Chipotle Salsa
New Breakfast Bagel Bites are one of the easiest and most delicious choices for a busy morning, but they're even better when served with this simple salsa!
My spice-loving oldest son loves the hint of heat and Mexican flair that this meal offers. I love that the Bagel Bites can be heated in the microwave, so that they're ready in less than three minutes. The smoky salsa blends so well with the bacon and sausage in these bites, but regular salsa or even ketchup is tasty with Breakfast Bagel Bites too!
Breakfast Bagel Bites with Chipotle Salsa
Quick and delicious savoury bagel bites with smoky salsa.
Ingredients
4 Breakfast Bagel Bites, desired flavour
½ cup salsa
½ tsp. chipotle chili powder
½ tsp. liquid smoke
Instructions
Place Breakfast Bagel Bites on included crisping tray and microwave until heated throughout, according to package directions.
Meanwhile, mix salsa, chili powder and liquid smoke together until well combined. Serve Bagel Bites hot with salsa for dipping/topping.
Nutrition Information:
Yield:

1
Serving Size:

1 Servings
Amount Per Serving:
Calories:

242
Total Fat:

7g
Saturated Fat:

2g
Trans Fat:

1g
Unsaturated Fat:

4g
Cholesterol:

4mg
Sodium:

1331mg
Carbohydrates:

40g
Fiber:

4g
Sugar:

8g
Protein:

8g
Sweet – French Toast Sticks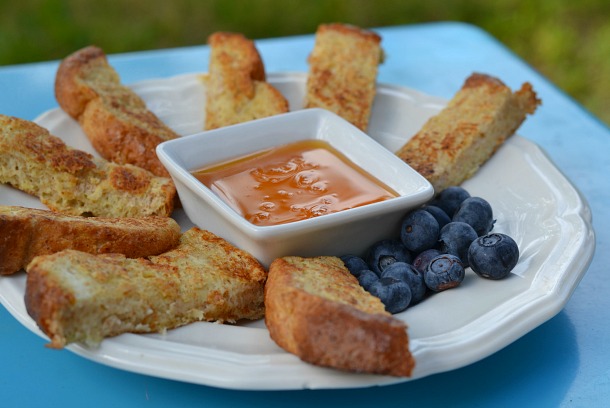 If your child loves French Toast and you've never tried freezing it, you're missing out on a great quick and easy breakfast choice! While it does require a bit of advance preparation, the work will be worth it on that first busy school morning.
Just place a slice of frozen French Toast in the toaster and when it pops, breakfast is ready! With protein, calcium and whole grains, it's a sweet and tasty way for your kids to start the day!
French Toast Sticks
Make-ahead french toast perfect for dipping.
Ingredients
8 slices whole wheat bread
4 eggs
1 cup milk
1 tsp. vanilla
Syrup, to serve
Instructions
Beat together eggs, milk and vanilla until combined. Place bread on cookie sheet and pour egg mixture overtop slices. Flip bread after one minute, and then let sit until egg mixture is fully absorbed and bread is saturated (about 3 minutes).
In a lightly greased skillet over medium-high heat, fry bread slices until cooked through and lightly browned. Cool on a wire rack.
Place cooked French Toast on a cookie sheet and freeze for 10 minutes. Remove from freezer and individually wrap each slice in plastic wrap. Freeze until needed.
To serve, unwrap frozen French Toast and cook in toaster until heated through. Cut into sticks and serve with syrup.
Drinkable – Berry Yogurt Smoothie
For the reluctant breakfast eater, try making breakfast into a drink instead! Creamy Greek yogurt and milk provide calcium and protein, while fresh or frozen fruit add vitamins and natural sweetness.
Ready in minutes, it's an easy-to-customize breakfast choice that can be made with a variety of delicious fruit. Strawberries and peaches are my personal favourite, while my boys prefer a blend of blueberries, strawberries and banana.
Want to make breakfast even more fun? Blend up a smoothie the night before and pour it into popsicle moulds for breakfast freeze pops!
Berry Yogurt Smoothie
A drinkable breakfast smoothie that's easy to customize.
Ingredients
½ cup Greek yogurt
½ cup milk
½ cup fresh or frozen fruit
Instructions
Combine all ingredients in blender. Blend until smooth and creamy, adding more milk if needed.
Serve immediately.
Nutrition Information:
Yield:

1
Serving Size:

1 Servings
Amount Per Serving:
Calories:

171
Total Fat:

3g
Saturated Fat:

2g
Trans Fat:

0g
Unsaturated Fat:

1g
Cholesterol:

15mg
Sodium:

106mg
Carbohydrates:

21g
Fiber:

2g
Sugar:

12g
Protein:

16g
Make-Ahead – Blueberry Almond Breakfast Bars
For those mornings when everyone slept in late and there's no time to eat at home, keep a batch of these Blueberry Almond Breakfast Bars wrapped and ready in the freezer.
With oat bran, ground flax, blueberries and honey, they have plenty of fibre and nutrients to power a child through his day, and a taste that kids and adults will both love. These bars offer grab-and-go convenience with great homemade taste.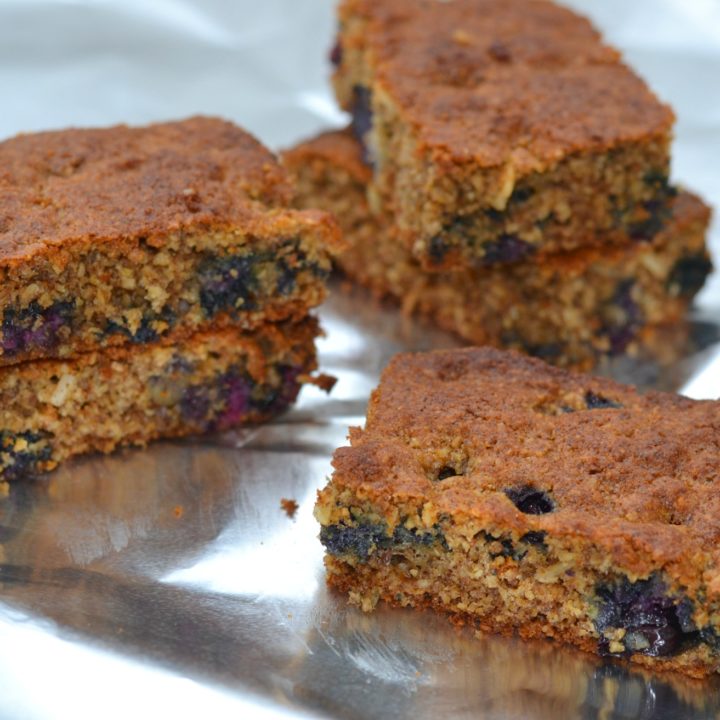 Blueberry Almond Breakfast Bars
Hearty breakfast bars to grab and go on busy mornings.
Ingredients
1 cup oat bran
1/2 cup flour, all-purpose or whole wheat
1/2 cup ground flax
1 tsp baking powder
1/2 tsp baking soda
1/2 tsp salt
1 tsp cinnamon
1/2 cup butter, melted
1/2 cup honey
2 eggs
1 cup blueberries, fresh or frozen
1/2 cup sliced almonds
Instructions
Preheat oven to 375 degrees. Grease bottom and sides of 9"x13" pan. Combine dry ingredients in small bowl.
Combine butter and honey in medium bowl. Beat in eggs one at a time. Stir in flour mixture until blended.
Gently fold in blueberries and almonds. Spread in prepared pan, and bake for 20 to 25 minutes.
Cool and cut into 16 bars. Wrap individually in plastic wrap and freeze until needed.
As somebody who prefers savoury to sweet, the Breakfast Bagel Bites are my personal favourite of these easy breakfast ideas for kids, and I was especially excited to see that they boast 8-10 grams of protein per serving! Getting enough protein in the morning isn't always easy, but these breakfast morsels make it a breeze!
The Sausage, Egg & Cheese variety has all the flavour of a breakfast sandwich with just 200 calories per serving and since Bagel Bites are baked, not fried, they fill my boys up without weighing them down.
I know there will still be mornings during the school year that don't give me a minute to spare and leave me feeling exhausted when the kids are finally out of the house. At least with these four easy breakfast ideas for kids, I'll be able to get the boys on their way knowing that they're energized for the day…even if I'm not!
Looking for more great breakfast recipes for kids? This make-ahead Breville waffle recipe for classic waffles is sure to be a hit as well!
Disclosure: I received the products mentioned in this post for free from Bagel Bites and I am being paid by Rogers to review them. The opinions expressed in my blog are my own and not those of Rogers or Today's Parent.