I am an absolute huge fan of Green & Black's Organic chocolate. In fact, when I mention my love of organic chocolate to others, Green & Black's is the brand I'm thinking of. It has a rich, complex flavour that I find absolutely irresistible. Recently, Green & Black's contacted me and asked me to be a part of the Green & Black's Organic Easter Recipe Hunt and I couldn't wait to take my love of this decadent chocolate into the kitchen. The recipes have now been posted on the Green & Black's Canada Facebook page and one lucky recipe will be recognized as the first place winner!
I pondered different recipes for quite some time and eventually decided on a light and fruity tiramisu. Traditional Tiramisu uses flavours of coffee and rich mascarpone cheese to create quite a heavy, decadent dessert. I decided to lighten it up by using flavours of orange and raspberry blended with the rich complexity of dark chocolate.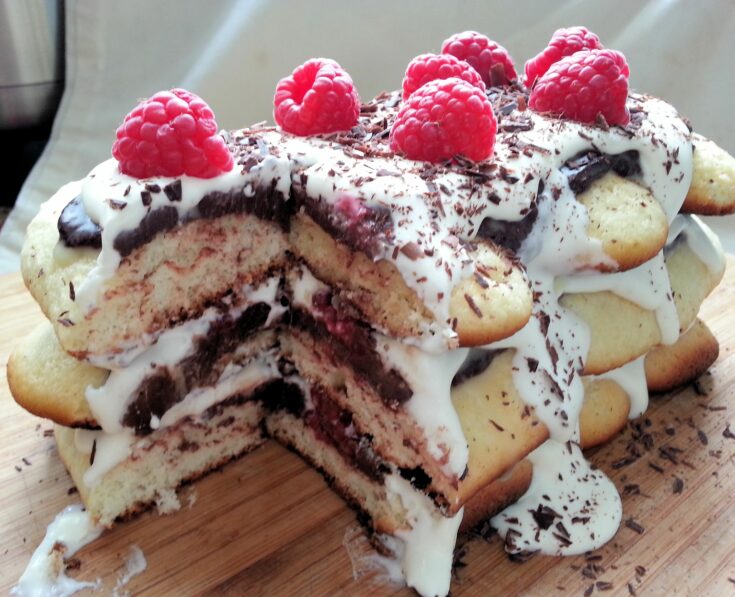 Green & Black's Dark Chocolate Orange Raspberry Tiramisu
Total Time:
2 hours
30 minutes
A light and fruity twist on traditional tiramisu, made decadent with the addition of rich dark chocolate. Perfect for Easter dessert!
Ingredients
1 cup 250ml whipping cream
2 eggs yolks
1/4 cup 55g white sugar
1 lb. 500g mascarpone cheese
10 oz. 300g Green & Black's Organic 70% Dark chocolate
1 cup 250ml whipping cream
¾ cup 175ml orange juice
¼ cup 60ml orange liqueur
24 ladyfinger biscuits
1 cup 250g fresh raspberries
Green & Black's Organic 70% Dark chocolate, shaved, to serve
Instructions
Mascarpone Filling: Using electric beaters, whip the egg yolks and sugar until pale yellow and thickened, about five minutes. Blend in the mascarpone until smooth.
Whip cream until stiff peaks form. Gently fold whipped cream into the mascarpone mixture. Cover and refrigerate until needed.
Chocolate Sauce: Combine chopped Green & Black's Organic 70% dark chocolate and whipping cream in small saucepan over low heat. Stir constantly until chocolate is melted and sauce is smooth.
Set sauce aside at room temperature to thicken slightly, stirring occasionally. If needed, chill for a few minutes to thicken.
Combine orange juice and orange liqueur in a shallow bowl.
One at a time, dip eight ladyfingers into the orange mixture and lay in a row on a flat serving tray.
Using a spatula, spread chocolate sauce over the ladyfingers. Carefully spread mascarpone filling on top, and then scatter with raspberries.
Repeat to create two additional layers, ending with a final sprinkling of raspberries. Cover loosely and chill in refrigerator at least two hours or overnight.
When ready to serve, top tiramisu with shaved Green & Black's Organic 70% dark chocolate. Cut into slices
Nutrition Information:
Yield:

8
Serving Size:

1
Amount Per Serving:
Calories:

978
Total Fat:

75g
Saturated Fat:

44g
Trans Fat:

1g
Unsaturated Fat:

25g
Cholesterol:

300mg
Sodium:

408mg
Carbohydrates:

60g
Fiber:

7g
Sugar:

25g
Protein:

14g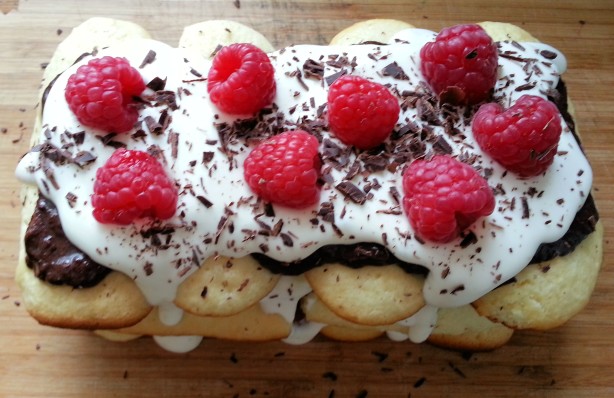 I made the ladyfingers for this recipe myself but I do NOT recommend doing this unless you really like making everything from scratch. I did so only out of necessity, as my small town doesn't sell ladyfingers. Store-bought ones are delicious and much easier.
Because I really wanted that visual appeal of dark chocolate and white mascarpone, I didn't whip the filling too much. I wanted it to drip down the sides of the tiramisu to create some contrast. If you prefer a thicker consistency, just whip the tiramisu a little more until it reaches a nice, thick, whipped cream consistency and spread it between the ladyfingers. Similarly, the chocolate sauce will thicken as it cools, so wait for it to reach an appropriate thickness depending on the look you want.
Shaved chocolate and fresh raspberries finished off the dessert beautifully. I decided to use the Green & Black's Organic 70% Dark Chocolate for this recipe, but I also think the Maya Gold would be a beautiful choice for this. The orange and spice flavours in the chocolate would be a delicious compliment to the orange-soaked ladyfingers, especially for anyone that loves fresh citrus flavours.
My dessert and four other fabulous Easter desserts are currently competing to be recognized as the top Easter recipe on the Green & Black's Canada Facebook page, so make sure to head over to check them out! And don't forget to like my Dark Chocolate Orange Raspberry Tiramisu recipe while you're there! While audience appeal is only one factor in the judging of the winning recipe, I'd love to have your support!