Dental care has been a bit of a struggle for our family. My oldest son developed childhood caries when he was about three and as we waited months for him to get in to see the children's dentist, the condition passed to his baby brother as well. After we saw the dentist some time later, both boys were put on a waiting list for dental surgery, but with estimated wait times of over a year, I was determined to do everything I could to stop the cavities from spreading too much in the meantime.
Fortunately, regular brushing and flossing kept the decay from going any further and last month, both boys had their surgery. Now that their teeth are finally strong and healthy, I'm determined to keep them that way, especially since Zackary has permanent teeth coming in now! Oral-B knows how challenging a child's dental care can be at times and the company has some great tips this month to help ensure that your child's teeth stay healthy!
When it comes to children's dental health, the key is PREVENTION. Selecting healthy foods like fruits and vegetables and avoiding sugary foods are the best medicine for your child's teeth. When your child does consume sugar (such as fruit juices or sweets), avoid doing so between meals when the mouth's natural saliva production is low.
Kids under 8-9 should be supervised while brushing their teeth. If you can, take your child to the dentist every six months to monitor their development and the effectiveness of their oral care routine. Remember to swap out all the toothbrushes in your house every three months to ensure the most effective clean. Try the manual Oral-B CrossAction Pro-Health Toothbrush that removes 90 per cent of plaque in hard-to-reach places, helps reduce gingivitis and more to ensure your kids have a clean and healthy mouth.
Children can start using an electric toothbrush as early as age three when supervised. The Oral-B Pro-Health for Me Vitality electric toothbrush is the perfect electric toothbrush for kids and tweens. This electric toothbrush has a waterproof handle with fun designs and is compatible with multiple toothbrush heads – including an Ortho Brush Head refill designed to clean away gunk around braces. It also features a brushing timer that ensures their brushing style goes the extra mile for the dentist-recommended two minutes. But don't forget to teach your kids about flossing too!
Flossing is important because proper flossing helps remove plaque and food particles from those spaces between the teeth where a toothbrush can't reach. So if all you do is brush, you're missing an opportunity to promote not only healthy teeth, but also healthy gums. Research shows that regular flossing can reduce the risk of developing gum disease. Look for a floss, such as Glide, that slides easily in tight spaces and follow these simple steps.
Help teach your kids about the importance of oral health early. Check out tips and articles on oralb.com to help you learn about dental care from babies to kids, and adults too. Having trouble? Why not make a game of it and download the Yuck Mouth game for Android and Apple devices.
I was lucky enough to receive the Oral-B Pro-Health for Me Vitality electric toothbrush from Proctor and Gamble this month. I have an Oral-B electric toothbrush myself and I have been so impressed by how thoroughly it cleans my mouth. I was excited to think that my boys could benefit from that thorough clean as well. Zackary has been using the electric toothbrush for the last few weeks and it's made brushing his teeth so easy that I'm going to be buying one for Benjamin as well!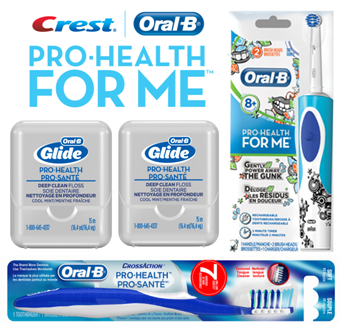 To help keep your child's mouth as healthy as possible, Oral-B is very generously offering one lucky Mommy Kat and Kids winner an Oral-B Tween Toothbrush prize pack containing an Oral-B Pro-Health for Me Vitality electric toothbrush, an Oral-B CrossAction Pro-Health Toothbrush and two packs of Glide Floss, a $50 value! To enter to win, just leave a blog comment about how you get your kids to brush. Please note that by entering the following giveaway, you are accepting that if you win your contact information will be shared with a P&G PR and shipping agency for the purpose of mailing your prize. Also please note that while you may enter to win this prize pack on multiple blogs, you can only win once.
As bad as I felt about my boys' dental surgery, the benefit of it was that it gave me a lot of motivation to make sure that my kids have great dental habits that last them the rest of their lives. And with a few good tips and high-quality dental care products from Oral-B, I'm sure that my boys' teeth will stay strong and healthy for years to come.
a Rafflecopter giveaway