My boys are always on the go. I am amazed at how full of energy Zackary is at the end of a full day of school, something that used to tire me right out as a kid, and Benjamin seems to have the exact same temperament.
All that running around means that I need to make sure they take a break for a healthy snack at some point. Zackary's school requests that a morning snack be added to his lunch and Benjamin has a huge appetite in the morning that has me scrambling to fill him up.
When I got the chance to try the brand new yogourt varieties of Bear Paws Morning Snack cookies, I was thrilled.
I want my boys to always enjoy healthy, well-balanced meals and snacks, so the Bear Paws Morning Snack Cereal & Blueberry Yogourt and Cereal & Vanilla Yogourt varieties, which contain 2g of fibre, 8g of whole grains and a source of calcium in every serving, seemed like the perfect choice for fueling my little hurricanes.
I received a very special Bear Paws Feed the Fun review package containing the two new yogourt-filled flavours of Bear Paws Morning Snack and an assortment of activities, toys and games perfect for my energetic boys. And since our school has a week-long break over Easter, the timing couldn't have been more perfect!
The magnetic board was the biggest hit of the Bear Paws Feed the Fun package. While both boys enjoyed the included magnet pen and shapes, it was when they discovered that they could spell words by stamping our alphabet fridge magnets on the board that they really fell in love.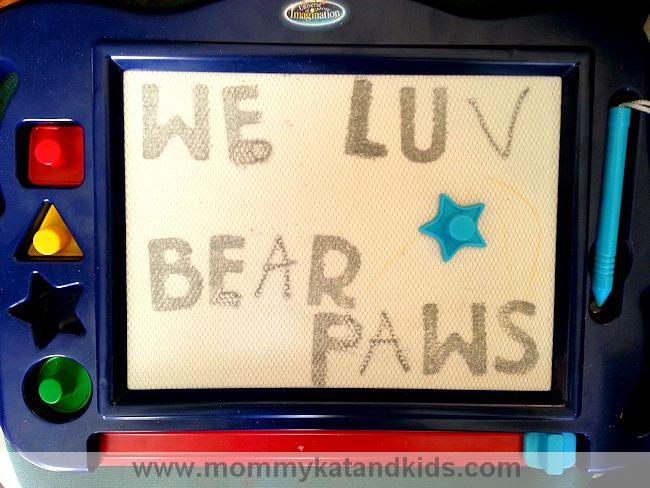 Over the next few days, Zackary and Benjamin enjoyed games with the Jenga blocks, colouring in their new colouring book and decorating anything and everything with stickers. And when all that fun left them feeling hungry, their favourite new snack was waiting for them!
Bear Paws Morning Snack aren't just great snacks for at home, though! Since each cookie is individually wrapped, they're quick and easy for popping into a lunchbox or keeping in a purse for satisfying hunger on the go.
And did you know that Bear Paws Morning Snack Cereal & Yogourt meets the highest nutritional guidelines of schools in Ontario, Saskatchewan, PEI and Quebec? Best of all, since they're peanut-free, they're a safe choice for daycare, playschool and sharing with friends!
To learn about the latest promotions from Bear Paws and get all kinds of ideas for adding fun to your family's day, make sure to check out the brand new Bear Paws Facebook page. And to help your kids power through their day, check out the new yogourt varieties of Bear Paws Morning Snack for yourself!
They're available at major grocery stores across Canada and have a suggested retail price of just $2.99. Grab a box for your child and feed the fun all day long!