Our beloved Siamese-cross Racer is such a perfect pet for our busy household. She's very independent, spends most of her time sleeping quietly in my room during the day and has enough personality to make it clear when she wants or needs something. With my boys taking up so much of my time, I love having a pet that's so good at taking care of herself.
But it wasn't that long ago that Racer was a tiny, helpless kitten that needed plenty of care and attention. Those first few days with a new pet can be stressful, but fortunately Canadians have access to two fabulous websites created by Purina to help you learn all about your new puppy or kitten. New pet owners can sign up at www.mykitten.ca or www.mypuppy.ca to receive a complimentary information kit, an engravable pet tag and a coupon for free puppy or kitten food!
The sites are absolutely loaded with tips, ideas and articles to help you ensure that your new best friend is happy and healthy for years to come. And users can even upload photos and videos of their pets, record important milestones and save links to useful information elsewhere on the Internet!
To help you get settled with your new pet, Purina has some great tips for that important first 48 hours after bringing home a new kitten or puppy! If you have a precious new feline, there are a few things you can do to help your kitten feel comfortable:
Home sweet home: Take a few days off, or bring your kitten home on a weekend so she can spend time getting to know family members, the home and make that first trip to the veterinarian (within 1-2 days of bringing kitten home). And make sure you check back with mykitten.ca for some essential first-day supplies, including a cat carrier, food and water bowls.
Offer a safe haven: Show your kitten her safe place, such as a quiet corner of the house, complete with a cushy bed. Set the carrier nearby with the door open and let her make her way out but put the litter box nearby. On that first night, expect to hear some mewing – it's normal for a new kitten to feel homesick
Explore the abode: Slowly introduce your kitten to the other rooms in the home by placing her open carrier in the room being introduced. Your kitten may hide under a bed or scoot behind a dresser, so be patient and repeat this process until she gets her bearings
Learning the litter box: Most kittens will quickly understand how to use a litter box, but you can help teach them what is expected by placing them in their litter box every hour. Gently scratch your kitten's front paws in the litter as a way for them to learn to deposit and bury their waste. For more tips visit mykitten.ca
And if you're opening your home and heart to a cuddly little puppy, remember that his first night without his littermates may be lonely. However, there are a few ways you can help him feel more at home:
Upon arrival: Once your puppy arrives home, show him his potty area outside, and allow him to explore (and do his business). When's he's finished sniffing around, bring him inside and set him up in his crate for some quiet time, so he has a chance to get to know his surroundings without feeling overwhelmed with new people and other pets
Resting up: Try and limit visitors for the first two days and when your puppy is sleeping, don't wake him — proper rest will help him grow well. To learn more about when to introduce puppy and other socialization tips visit mypuppy.ca
Handle with care: Teach your family the proper way to hold a puppy by placing one hand under the hindquarters and the other under the chest. While kids may want to hold, hug and carry the new puppy, the best way to show love is to calmly approach and pet their pooch. This will ensure your children are viewed by the puppy as alphas instead of littermates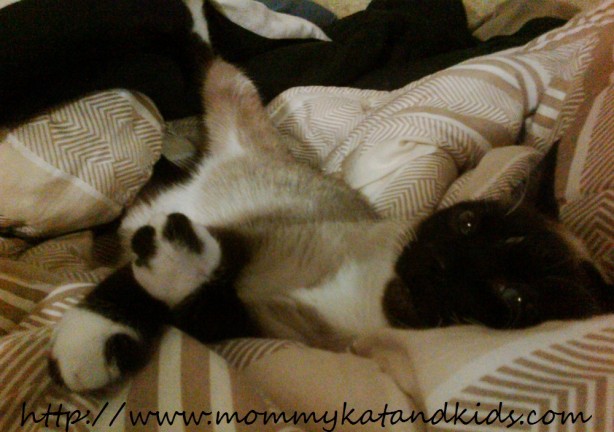 Once your new pet is settled in, make sure to check out the fabulous new and improved online resources at mypuppy.ca and mykitten.ca if you have questions or need more information about your pet. These websites are a great place to share cute pictures of your pet, record those precious moments and make sure that you have all the information you need to enjoy years of happiness with your new dog or cat!