In many ways, kids don't get as many chances to fail as they used to. Sports are often played in a non-competitive setting, children are no longer held back at school and because instilling positive self-esteem has become a focus for so many parents, many children no longer learn about how to continue on regardless when they'd don't succeed at a task.
But failure is a part of life and learning to keep moving forward despite a setback is one of the most important lessons we can give our children.
That is the concept behind the Never Give Up Bunny and recently I received the Never Give Up Bunny Family Pack to review so I could see just how these adorable bunnies help children learn about perseverance and achieving goals.
The pack contained Bani-o, the courageous, helpful and kind white bunny, Messy Miko, the mischievous and energetic explorer and Princess Mimisu, the precious and "pretty brave" tutu-wearing cutie.
Bani-o was the original Never Give Up Bunny and since he was bigger than little Messy Miko and Princess Mimisu, big brother Zackary immediately claimed him. Benjamin was given Messy Miko and I kept Princes Mimisu for myself.
The genius of these little toys is a weighted bottom so that no matter how many times they're pushed or knocked over, they roll upright again, enforcing the message that children should always get back up and keep trying.
The bunnies also feature a soothing chime that sounds when the bunny is rolled around.
For us, these bunnies couldn't have arrived at a better time. Zackary had recently had grading done in his karate class and was one of the few white belts that didn't move up a level.
He was very sad about it and it really was one of his first experiences failing at something. We talked for a bit about how continuing to practice and try was more important in the end than getting a new belt and being able to use Bani-o as an example quickly had Zackary feeling better.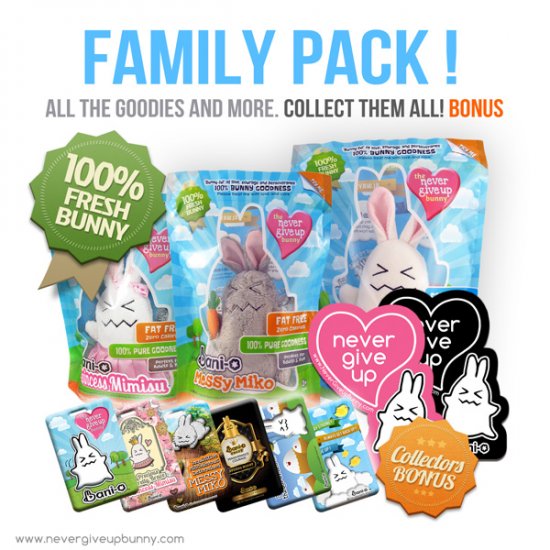 Each Never Give Up Bunny comes with a fun and inspirational package that includes a collector's crest hand tag, a special colouring page for children to draw their dreams and goals, an adoption letter, a poem card and more!
And the website has lots of activities and games to help remind children to keep on going no matter what. Check out this fun and adorable line of toys for yourself and let your children have fun pushing Bani-O down and seeing him hop back up, a reminder to always "stay strong and never give up!"