Spring took a long time coming, but the weather is finally warmer and the season for outdoor activities has arrived! Exercising outside can seem like a no-brainer. When the sun is shining and there a fresh breeze blowing, who would want to be closed away indoors? But hot days bring their own challenges when it comes to exercising, so make sure when you head out for a run or a game of soccer, you're taking a few simple safety precautions! These four tips will help ensure that you're exercising safely in warm weather: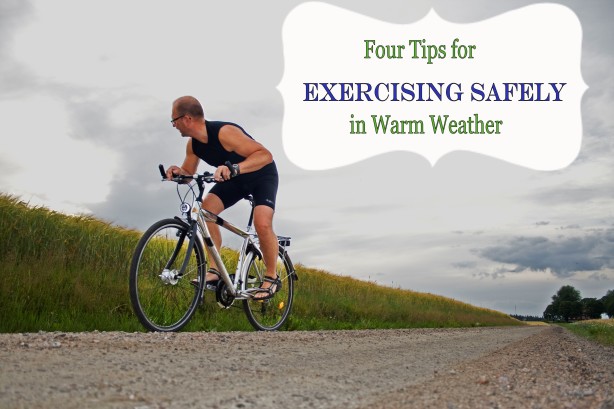 1) Stay Hydrated
Don't wait until you're thirsty to drink water. Drinking eight ounces of water for every fifteen to twenty minutes you spend exercising is a common recommendation from most health professionals. And snacking on plenty of juicy fruits and vegetables can also help hydrate your body while replacing valuable electrolytes and nutrients lost during exercise.
2) Avoid Afternoon
The hottest part of the day is between 11am and 4pm according to Environment Canada, so plan your workouts for before or after this time of day. A summer morning run can be a great energizing way to start the day and a cooling swim is so refreshing in the evening!
3) Keep it Light and Loose
Loose, light-coloured clothing reflects the sun's rays and lets air circulate better to help ensure that your body stays cool. So put the tank top away and opt for a loose t-shirt instead. And don't forget a hat to help shade your face!
4) Listen To Your Body
If you start to feel short of breath, dizzy, lightheaded, weak or nauseated, get indoors and cool down! Your body will tell you when you've had enough and paying attention to the way that you're feeling is important when the thermometer starts shooting up. Make sure you're not overexerting yourself; it's a bigger priority than finishing that one-mile circuit.
Exercising in warm weather is lots of fun as long as you take a few extra precautions. Make sure you're eating properly and fuel your body with the nutrients it needs by taking an all-natural and great-tasting multivitamin like Adult Essentials Enhanced Multi-Vitamins with Omega-3. Then grab your gear and head outside for some fresh air and fitness!