I love coffee but since I'm the only one in the house that drinks it, I often find myself miscalculating how much I want and then wasting coffee as a result when I make a pot. I have a specialty coffee maker that's great for creating individual lattes and cappuccinos, but what I really wanted was a way to make a single cup of good coffee so I could have one when I wanted without wasting.
Recently, Staples Canada came to my rescue by giving me the chance to review the Keurig Elite Single Serve Brewing System. This single-serve coffee maker brews a variety of tasty beverages ranging from coffee to tea to hot chocolate. I was excited to see how it compared to my other machines and I had it filled and ready to use within an hour of receiving it.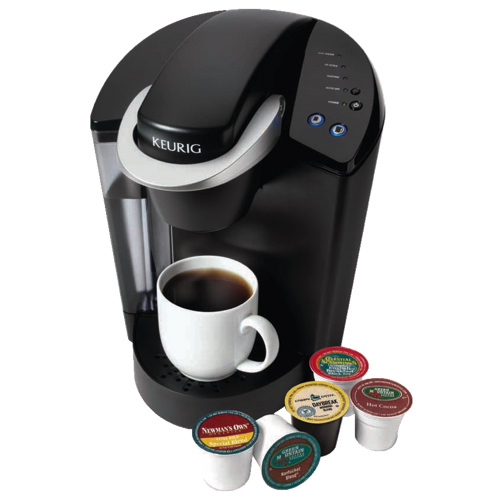 The 48 oz. reservoir meant that I didn't need to refill the machine repeatedly, which was immediately something I appreciated. I decided to try the Timothy's German Chocolate Cake coffee and brewing up a cup was as simple as popping in the pod and pressing a button to choose my cup size.
The two different cup sizes was the other big advantage of this machine for me. I found that for a regular cup of coffee, the larger cup size was ideal; I often just made one large cup of coffee with the Keurig in the morning instead of using my regular coffee machine at all. But for flavoured coffee, like my recently discovered favourite Folgers Vanilla Biscotti, the smaller cup size let me enjoy a stronger flavour for a more decadent treat.
I'm really impressed with how versatile and useful the Keurig Elite has proven to be. I get to enjoy coffee and flavoured coffee, my boys can be treated with hot chocolate and apple cider and all of us love easily being able to brew up our favourite variety of tea. Whether you want a machine that's versatile enough to brew specialty beverages for everyone in the house or you're looking for an office brewer that can accommodate different tastes, Staples has a wide range of machines for both home and office use that will make sipping your favourite beverage easier than ever!