There's nothing better than sipping a cold, refreshing beverage on a hot summer's day and once again, Minute Maid has teamed up with the Canadian Living Test Kitchen to create an amazing assortment of cool concoctions to quench your thirst!
I always love trying the newest recipes from Minute Maid and so when I was given the chance to whip up one of these tasty drinks and see what I thought, I couldn't resist. I was tempted to try making a nice summer Sangria, but my boys love fruity summer drinks as much as I do, so I eventually decided to make the non-alcoholic Sparkling Peach Punch recipe.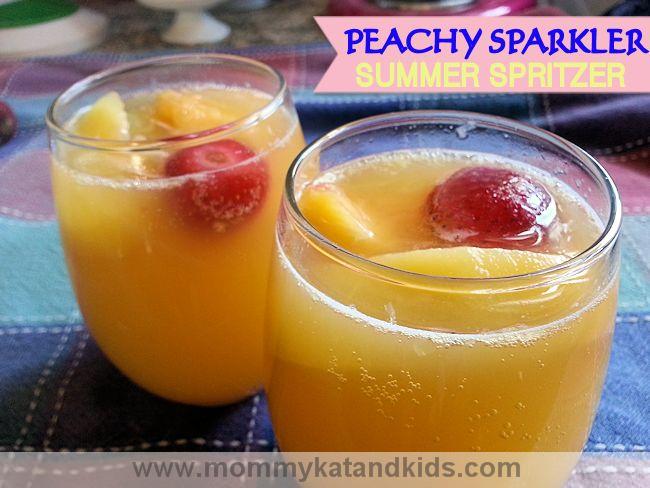 One of the things that I loved about this recipe was that it was suitable to partially make ahead and then serve up as needed. By simply having the blend of juices and bottle of soda ready in the fridge, I could mix up individual drinks as they were required.
I also liked the ability to customize the sparkling drink with different varieties of Minute Maid punch. While the peach version was delicious, I think next time I'm going to try Minute Maid Mango Punch with frozen chunks of mango!
For more tasty beverage recipes featuring Minute Maid juices, make sure to check out the MinuteMaid.ca website. Or follow the Minute Maid Pinterest boards to be the first to know about the latest tasty creations from Minute Maid!
This drink is such a tasty and refreshing choice for a lazy weekend morning or a hot afternoon and I'm thinking I may make a grown-up version of the drink with sparkling white wine replacing the Sprite for our next backyard barbeque.
Looking for other delicious non-alcoholic easy punch recipes? Make sure to give this Sparkling Grape Lemonade a try as well! When it comes to delicious summertime drinks, having a few different varieties to choose from is always a good idea!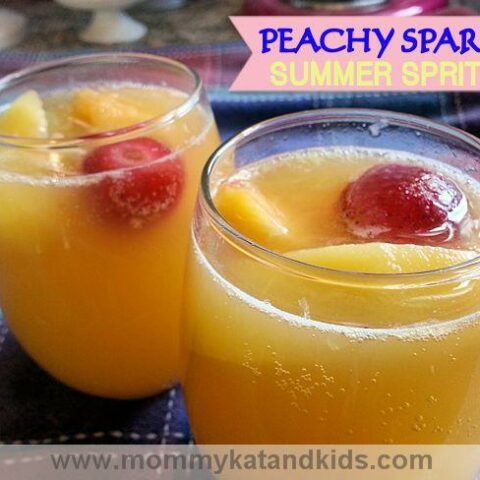 Minute Maid Peachy Sparkler
A refreshing and easy to customize sparkling drink perfect for summer.
Ingredients
1 can Minute Maid® Peach Punch Frozen concentrate, mixed with 1 ½ cans water
2 cups 500 mL Minute Maid® Original 100% chilled Orange Juice from concentrate
½ cup 125 mL lime juice
5 cups 1.25 L Sprite® beverage
Frozen grapes and peaches to serve
Instructions
In large bowl or pitcher, stir together Minute Maid® Frozen Peach Punch with Minute Maid® 100% Orange Juice and lime juice. Chill until needed
Fill glass with frozen grapes and peaches. Fill halfway with juice, top up with Sprite®. Alternately, skewer grapes and peach slices on a straw and freeze.
Nutrition Information:
Yield:

12
Serving Size:

250 grams
Amount Per Serving:
Calories:

89
Total Fat:

0g
Saturated Fat:

0g
Trans Fat:

0g
Unsaturated Fat:

0g
Cholesterol:

0mg
Sodium:

14mg
Carbohydrates:

22g
Fiber:

1g
Sugar:

20g
Protein:

1g