I love my century-old house and even though it's not very large, for the most part it has all the space the boys and I need.
In fact, the only area of the house that I really wish was larger was the kitchen. I like to cook and while I manage just fine in the small area, counter space is very limited.
That's why I love an appliance that can multitask and the new Breville All In One looked like it would be a dream come true for my little kitchen.
The combination food processor/blender is able to chop, slice, mash, shred, whisk and blend to handle all kinds of food preparations in a flash. I was delighted when I got the chance to test out this little space-saving device for myself.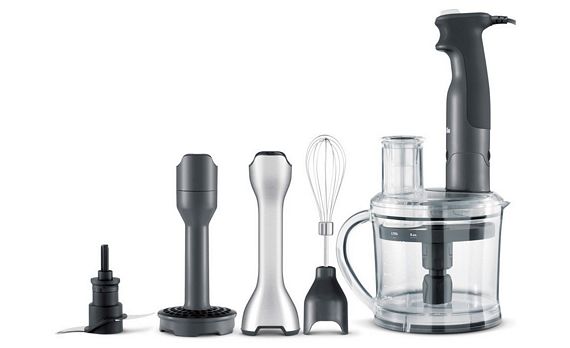 For such a compact unit, the Breville All in One with Control Grip still has the size to hand meal preparations for a standard family.
I liked that it included a large six-cup processing bowl to hold all the vegetables, cheese, potatoes or other foods I might need to prepare.
I also loved the way that the different attachments all fit neatly together in the storage base.
One of my biggest pet peeves with food processors is that there is usually no place to store the extra attachments. I invariably end up stashing pieces in the cupboard and then have to hunt for them when I need them.
With the Breville All In One, all the pieces that come with the device fit neatly into the base to that I can grab them when I need them.
But my absolute favourite feature of this little appliance is the Control Grip motor itself. With a trigger switch for maximum control and fifteen speed settings, getting perfect results when blending and processing food has never been easier!
I have been having a great time testing out the functionality of this sleek little machine by using it for everything from chopping onions (without tears!) to whipping cream to mashing potatoes to slicing eggplant.
And the fact that I can do so much with a machine that takes up only about one square foot of space on my counter just makes my day!
If you have limited space in your kitchen or just like keeping countertop clutter to a minimum, check out the Breville All In One and see how it packs big functionality into a small size!