Living in Western Canada, I was raised to understand the importance of big trucks and big fish. A big truck was how farmers got around the fields, how homeowners hauled building supplies for inevitable renovations and repairs and how almost everybody dealt with the wear and tear of cruising on gravel roads. In fact, one of my earliest memories is sitting beside my dad in his old pickup driving down a winding gravel road in rural Saskatchewan.
Big fish, well…those were just for fun. Saskatchewan is an outdoorsy province, so hunting and fishing have always been a popular activity for us. From fishing in the nearby river as a child to heading out on a boat with friends as a teenager to eventually teaching my own son how to cast and reel, the combination of relaxation and pure excitement that fishing provides has always been something I love.
So for me, getting an invitation from Travel Manitoba and Ford Canada to go "Fishing with Ford" wasn't just exciting; it was pretty much a dream vacation. A day of cruising around Manitoba in a new Ford vehicle on a scavenger hunt followed by a trip to a fly-in fishing lodge for almost three days of fun on the water…what more could this small-town Saskatchewan girl ask for?
The trip kicked off in Winnipeg and after a delicious dinner with my fellow writers and a good night's sleep in the plush Fairmont Winnipeg Hotel, we were up bright and early to start our adventure. I was put on Team Blue with travel blogger Pam of Savoir Faire Abroad and we couldn't wait to hop into our Ford F-150 Platinum Edition.
The Platinum actually made its Canadian debut right in my home province of Saskatchewan and it takes comfort to a whole new level with real wood panelling, leather seats and satin chrome accents. I have to admit, I was a little nervous driving such a gorgeous machine through Winnipeg as we visited The Forks and learned about the past floods in the Red River area.
But soon we were heading onto gravel roads to visit Birds Hill Provincial Park, examine the gorgeous murals of Leo Mol in Beausejour and eat a delicious local lunch at Pinawa Dam. I was in my comfort zone cruising along with extra safety features including the Blind Spot Information System and Trailer Sway Control.
Then it was time to trade wheels for wings as we hopped into the Adventure Air floatplane at Lac du Bonnet that would take us to Eagle Nest Lodge for our fishing experience. I must admit, I'm a bit of a daredevil at heart and I was absolutely giddy about getting into the sky. The ride was smoother than I expected and showcased the gorgeous scenery in Northern Manitoba. I was amazed by how much water we crossed on the half-hour plane ride, but of course, Manitoba is home to over 100,000 lakes!
Eagle Nest Lodge itself was the very definition of rustic comfort. We were welcomed by the staff of the lodge and immediately directed to a cooler filled with welcome drinks as the staff inquired how we'd like our steak done since we'd be feasting on steak and lobster that night. We were given two large, multiple-room cabins for our group to use so men and women separated, picked our rooms in our respective cabins and headed back to the boats to get fishing.
With only a few hours to spend on the water before dinner, our guide Paul didn't take Pam and me out too far and we spent the majority of the time working on our technique and preparing for the next morning. Yet even practicing, we managed to pull in three nice-sized walleye that would be part of lunch the next day.
A delicious dinner, an early bedtime and the next morning we were out on the water again. This time we spent the morning farther away from camp and within a few hours, we'd caught all the walleye we legally could and started fishing just for fun. I have to admit, coming ashore for lunch with that huge catch of fish was a pretty awesome moment.
Shore lunch at Eagle Nest Lodge is expertly prepared by the guides and it was easily one of the best experiences of the trip. I would have said nothing could beat the pan-fried walleye with a spicy Cajun-style seasoning…until I tried the deep-fried walleye with creamy honey dill sauce! Even the picky eaters in the group loved it and we managed to devour the entire morning catch, something I was sure would be next to impossible. Then it was time to head back out and fish a little more!
My fishing experience in Saskatchewan had always consisted mainly of casting and reeling so when our guide gave me the chance to try new techniques including trolling and top water bass fishing, I dove right in. Catching small-mouth bass using top water lures was a lot more active and exciting than jigging for walleye and I even managed to catch a bass that was just ¾ of an inch smaller than the size I would need to earn the title of master angler. Next year!
Needless to say, after days of sunshine, fishing, great food, campfires and fabulous conversation with new friends, saying goodbye to Eagle Nest Lodge was bittersweet. My melancholy was put on hold when I got to ride in the cockpit of a beautiful little five-seater Cessna on the way back to the vehicles though! And then it was into the comfy Ford Explorer for the drive back to Winnipeg.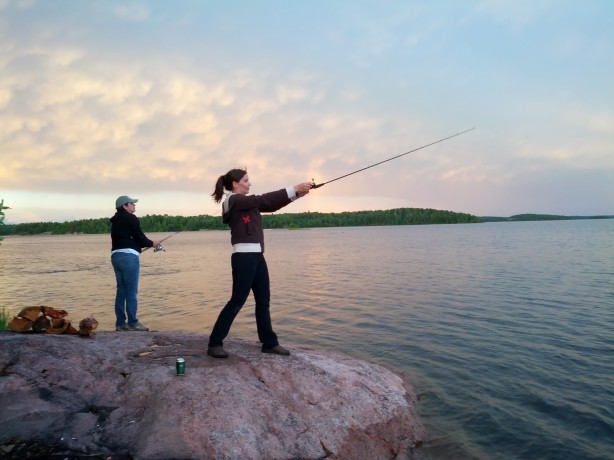 Travel Manitoba and Ford Canada had me cruising in style for the whole trip and if you love road trips as much as I do, I have a very special prize pack to help you cruise in style too! Containing an official Ford baseball cap, a Ford "Built Tough" travel mug, sunscreen, hand sanitizer, a luggage tag and a $10 Starbucks gift card all packed into a stylish Travel Manitoba backpack, it has everything you need for outdoor summer fun! To enter to win, just leave a blog comment about what part of this trip you would have enjoyed most!
I had two great takeaway moments during my adventure Fishing with Ford. The first was experiencing the way that the new generation of Ford vehicles are designed to handle all types of terrain. Whether the Ford SYNC system was keeping me en route as I drove nervously through Winnipeg or the Control Trac 4WD was keeping Pam safe as she hesitantly traversed the gravel roads, the Ford Explorer and F-150 were packed with features that made driving safe and comfortable everywhere.
The second was how welcoming everyone we encountered in Manitoba had been. I have to admit, being from a sport fishing prairie province myself, I expected great fishing in Manitoba and I was not disappointed. But what I hadn't expected was the cheery attitude of everyone that we encountered along the way. From the fabulous chef at the Fairmont Winnipeg to the team of guides and staff at Eagle Nest Lodge, the warm personalities of the people we met made it clear why the province is known as "Friendly Manitoba!"
I am so grateful to the fabulous folks at Travel Manitoba and Ford Canada for giving me the chance to get away from the computer for a while and experience the beauty of Manitoba for myself from behind the wheel of some of Ford's best vehicles for getting off the beaten path. One thing is certain, it won't be the last time I visit!