Getting the family ready to go back to school can be fun but it can also be pretty stressful! Between the crowded stores, complaining kids and time spent travelling from place to place, no wonder some parents shudder at the thought of summer ending! That's why I prefer to shop online whenever possible. From the comfort of my home, I can pick out the latest and trendiest fashions for my boys, new cool work accessories for my home office and a large number of essential school supplies!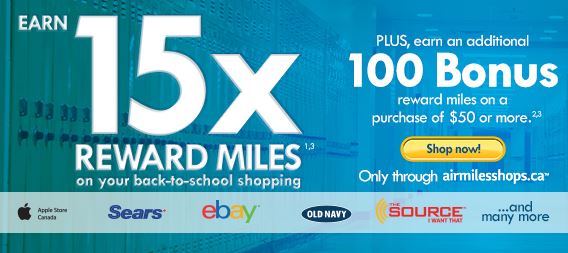 But shopping online has another benefit too. By visiting airmilesshops.ca before I start my shopping spree, I can earn AIR MILES reward miles on my purchases at more than 100 major brand name stores! I'll be doing a little updating to my own wardrobe in addition to ensuring my boys are ready for colder weather. Since airmilesshops.ca allows me to earn reward miles while shopping at so many of my favourite retailers including Old Navy, Lands' End, LL Bean and more, online shopping becomes even more rewarding! I just have to sign in with my AIR MILES Collector number, before I shop, to start earning on what I buy – how easy is that?!
And right now, airmilesshops.ca is giving AIR MILES Collectors even more reasons to shop online! Until September 9, 2013, earn 15x AIR MILES reward miles on purchases made through airmilesshops.ca! As if that wasn't exciting enough, Collectors can also earn 100 bonus reward miles for spending $50 or more at any of the online retailers featured on the site!
Earning reward miles is so easy. Just sign in at airmilesshops.ca by entering your AIR MILES Collector number and clicking "Shop Now". Then visit your favourite online stores through the airmilesshops.ca portal and shop as you normally would! When you make your purchase, you automatically earn AIR MILES reward miles. And if you pay with an AIR MILES-affiliated BMO or Amex credit card, you can earn even more!
Whether you need snowsuits for your little ones, last-minute school supplies, electronics for a college-bound teenager or some updated office outfits for yourself, fall shopping is so easy and convenient with airmilesshops.ca and it's incredibly rewarding too! Visit airmilesshopes.ca/backtoschool for full details and make sure to take advantage of this great opportunity to earn 15x reward miles while you stock up on everything you need for the season in the comfort of your own home!