The first day of school is quickly approaching and whether your child has a few butterflies about heading back or you just want to commemorate the special day, Hallmark has a fabulous range of products that are sure to make the first day of school a memorable one! Recently Hallmark sent me a few of its "Making Memories" and "Encouraging Kids" products perfect for back-to-school to review and I fell in love almost at once. From photo props to special cards, they're sure to put a smile on your little one's face on that big first day!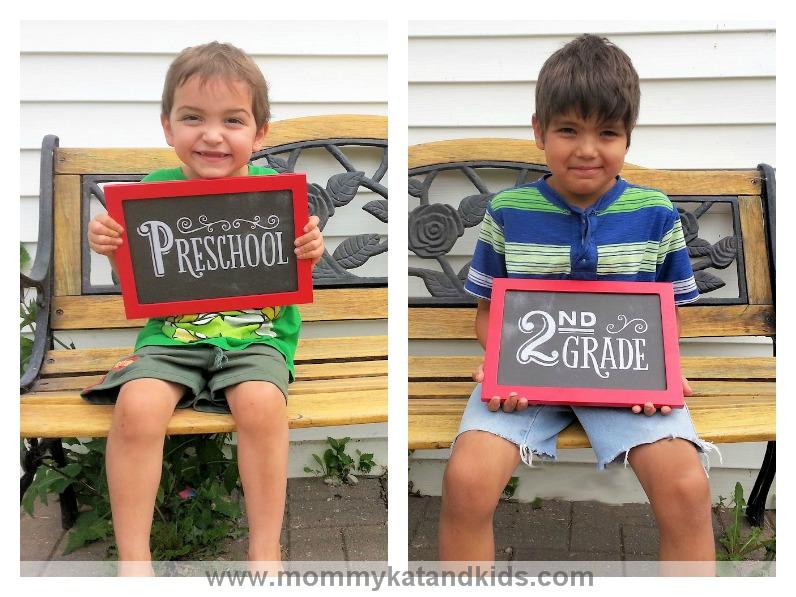 I received a Hallmark Pics 'N' Props My First Day of School Kit and a set of fun Kid Encouragement and Back-to-School greeting cards to review. I loved the concept of the handy photo kit. Every day from now until my boys graduate, I can insert the included printed cards featuring my boys' current grade levels into the chalkboard and take a picture of them holding it up. It's going to be such a fun way to see how much they grow each year. And the stylish photo album will help keep all the pictures from previous years together so that I can look back and relive the memories. Best of all, the set includes a note card for each year of school that I can fill out together with my boys for us to look back on one day. With a spot for the date, the year's teacher and a list of friends, it will be a great memory for the future.
The cards were just as much fun and I'm going to be surprising my boys with them for quite some time. I received an assortment of cards with both back-to-school and kid encouragement themes, all with bright, kid-friendly colours and designs that I know my boys will absolutely love. The SO SO Happy cards were my personal favourites. In addition to fun, inspirational messages, the cards featured fun extras including buttons and backpack clips to help give a child a daily reminder of how much you care. Each of my boys is going to be getting one of these little cards and reminders on their first day!
Hallmark wants to send your children back to school with a smile too, so the company is very generously offering one lucky Mommy Kat and Kids reader their very own Back to School Prize Pack just like the one I received, a $60 value! To enter to win, just leave a blog comment about how your child feels about going back to school.
As much as I sometimes find it hard to believe, I know that time is going to fly by over the next few years and before I know it my boys will be finishing high school and heading out to start their own lives as adults. I may not be able to freeze time and keep my boys young forever, but I am happy that Hallmark gives me such fun and easy ways to encourage them as they grow and record their milestones with each passing year. Take a look at the collection of back to school cards and gifts for yourself and pick out a few favourites. You'll love the fun assortment of products that makes it easy to look back at memories in years to come!
a Rafflecopter giveaway