My boys and I are trying our best to enjoy the last lazy days of summer, but I can't help but turn my mind towards the upcoming school year too. Zackary will be entering Grade 2, Benjamin will be attending Pre-Kindergarten and both boys need all kinds of supplies for their upcoming days. Lunch gear is always one of the things at the top of my list but this year, my boys are ready to head back to school in style thanks to Rubbermaid!
I had the chance to review the handy Rubbermaid LunchBlox sandwich and salad kits from Rubbermaid last year and while they were great for packing food neatly and keeping meals fresh and cold, the lids on the containers were a little hard to open. For an adult that's not a big deal but a child at school needs to be able to open lunch containers on their own.
Fortunately, Rubbermaid understands that kids need a slightly different design for their lunch gear and so the company introduced new Rubbermaid LunchBlox Kids kits featuring easy-to-open lids and bright, kid-friendly colours. I received an assortment of the sets to review and I knew they would be just right for my boys' upcoming school year.
One of the things I love most about the LunchBlox system is that it features a specially fitted Blue Ice freezer pack to keep food fresh all day. The pack locks into place between the large sandwich container and the two smaller snack containers. I also liked the fact that I could use the containers without locking them together. For one of the more structured flat lunch bags, placing the sandwich container and snack containers side-by-side worked perfectly. For an upright fabric lunch bag, I just locked the containers into a square and placed it inside the bag. Either way the Rubbermaid LunchBlox system keeps my boys' meals organized!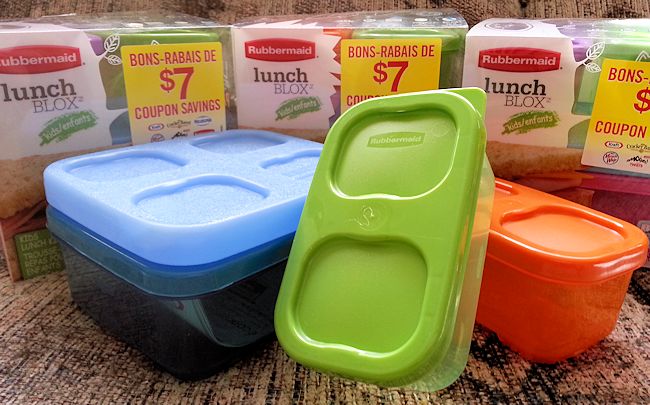 To help get your little ones ready for school, Rubbermaid is offering one lucky Mommy Kat and Kids reader a fabulous prize pack containing four Rubbermaid LunchBlox Kids kits, a $40 value! To enter to win, just leave a blog comment about what your child would love to see in their lunch on the first day of school. The kits are available at Walmart and Loblows and right now when you purchase a Rubbermaid LunchBlox Kids kit, you'll receive $7 in money-saving coupons inside! Considering the kits have a retail price of less than ten dollars, getting the perfect lunch gear has never been so inexpensive!
Of course, in addition to all the other benefits of the Rubbermaid LunchBlox system, one of my favourite perks is that the containers are eco-friendly! Waste-free lunches are something I've been passionate about since my oldest son first started attending playschool and this system is an ideal one for eliminating lunch waste. Check out the new Rubbermaid LunchBlox Kids kits for yourself and see how they make packing lunches easy and fun for moms and kids!