Having two boys that are over three years apart in age can be a challenge at times. Benjamin always wants to do the things that his big brother does, but sometimes he's just not at the right maturity level. Video games are a perfect example of that problem. Zackary, at seven years old, absolutely loves his one hour of video games each night, either on his Nintendo DS or on the Xbox 360. Benjamin, on the other hand, really doesn't have the comprehension or fine motor skills to be able to play a game with a controller. And since he's not even four yet, I really don't want him spending time playing video games anyways.
Fortunately, VTech Canada has a solution that's perfect for parents like me. The VTech Innotab 3 is a tablet gaming device created especially for preschool and young grade school children. It combines fun interactive games with educational content for a system that kids and parents will both love! Recently I received the brand new VTech Innotab 3 to review and Benjamin was only too happy to test it out for me.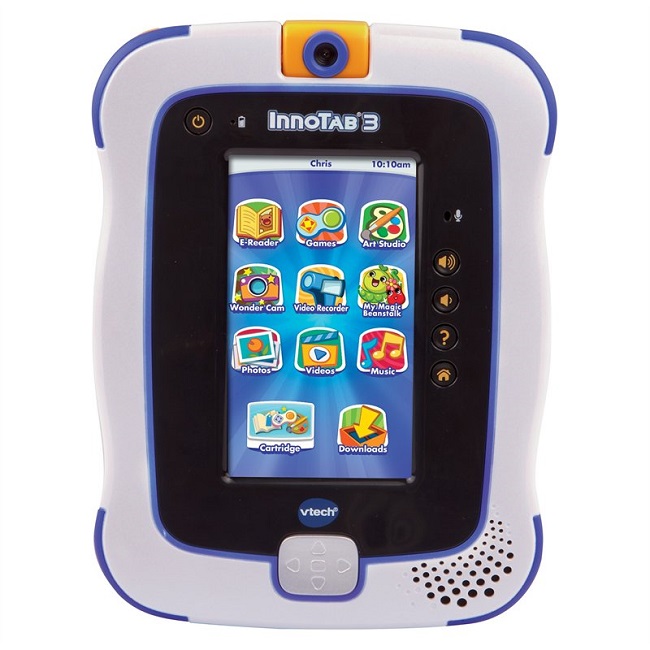 The system comes with sixteen apps already included and additional games and apps can be purchased for the Innotab 3 as well. One of the things that I love about this system is its multimedia capabilities. From reading books to playing games to taking pictures to recording voices, there is so much a child can do with the VTech Innotab 3! One of Benjamin's favourite features was the microphone; he loved recording little clips of himself and listening to them over and over again!
The other innovative feature that I especially loved was that the Innotab 3 let children play games in so many different ways. Kids can enjoy fun-filled games using the touch-screen, motion activation, the D-Pad controller or sound activation! Benjamin especially loved the motion-controlled games and had so much fun shaking and tilting the device as he played. The camera and video recorder were also big favourites for my son and for the first week after he received the Innotab 3, I found him popping in front of me to take pictures almost constantly!
For older children, the VTech Innotab 3 also features the ability to create custom MP3 playlists, keep track of their day with a built-in calendar and clock, take notes, personalize the home screen and even create friend lists that help organize birthdays and contact information! This device really is a system that will grow with Benjamin for years to come.
If your child would love to play and learn on this innovative tablet, you're in luck! VTech Canada is very generously offering one lucky mommy Kat and Kids reader their own VTech Innotab 3, an $80 value! To enter to win, just leave a blog comment about your favourite feature of the VTech Innotab 3.
Whether you're looking for a fun and educational gaming system for a younger child or an alternative to traditional systems that provide plenty of educational content and versatility, the VTech Innotab 3 is a great choice. And whether your child loves to read, draw, take pictures or play games, there's plenty of available content for this device to keep him entertained for hours. Check it out for yourself and see just how much fun and functionality is packed into the VTech Innotab 3!
a Rafflecopter giveaway