When I was a child, I absolutely loved to colour. I come from a family of artists but that talent definitely skipped me; I can draw passable little cartoons and not much else. But colouring was something that I could do and I would sometimes spend hours working on a picture to make sure that it was just right.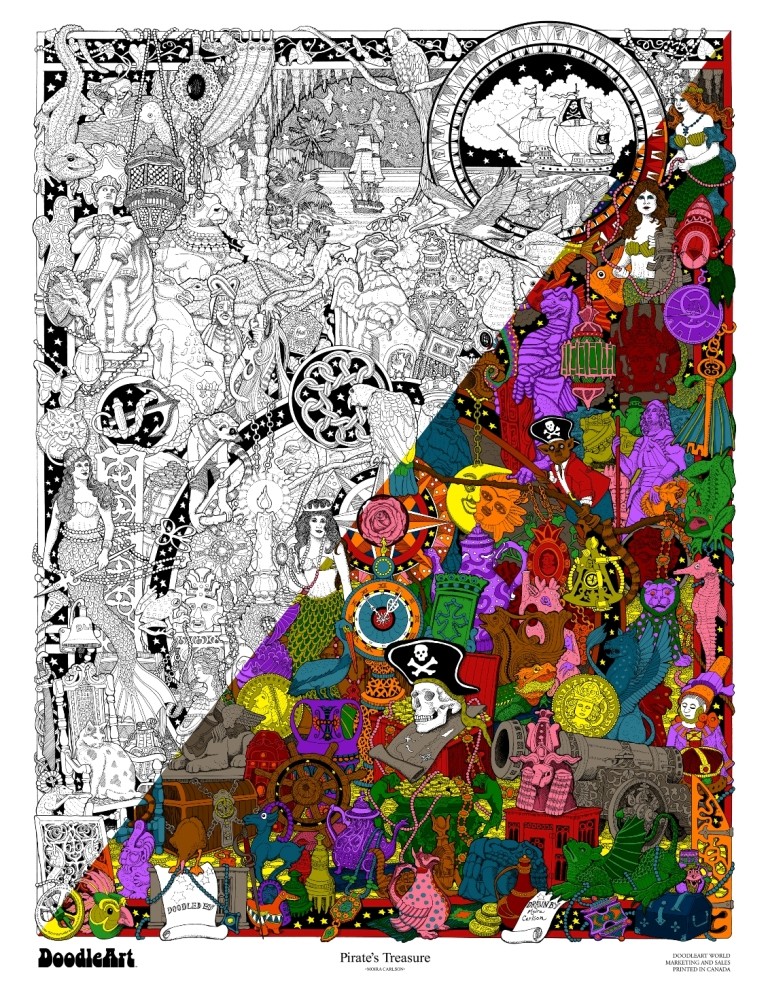 So when I received a Doodle Art poster one year at Christmas, I was delighted. The huge black and white sheet was filled with detail and came with a set of markers. I spent hours colouring in the tiny sections of the poster to create a masterpiece for my room. Now, Doodle Art is back and recently I received a full-sized Doodle Art kit from PlaSmart Inc. to review. I was so excited to share this classic from my own childhood with my boys!
At almost four years old, Benjamin is still a little young for the detailed colouring a Doodle Art poster requires, so I saved this kit especially for Zackary. He was so excited by the size of the poster and the set of double-tipped markers that came with it. One of the great things about the Doodle Art markers is that they have both a fine tip for the tiny details of the poster and a wide tip for filling in larger areas.
PlaSmart offers five different full-sized poster designs: Jungle, Butterflies, Fairy Tales, Flowers and Prehistoric. We received the Jungle design and it was a great choice for my animal-loving son. He has been working at the poster a little each day and while it's nowhere near complete, I love seeing him so engaged with the project. With up to 70 hours of colouring fun, this set is going to keep my son content for weeks to come!
These posters are a blast from the past for parents and a great way to provide hours of enjoyment for your junior artist. With multiple designs to choose from, different sizes for different skill levels and beautiful images that kids of all ages will love, it's classic entertainment at its best. Doodle Art posters are available nationwide at Indigo stores across Canada and can also be purchased online, so grab one for your child today and get ready for hours of quiet and contented fun!