Halloween is such a fun time of year and while it's obviously not hard to get my boys excited about celebrating a day of dressing up like heroes and collecting candy, there's another family member we like to involve in the fun as well! Our beloved cat Racer may be spoiled and finicky, but that doesn't mean she can't celebrate Halloween too!
In fact, Halloween is one of PetSmart's very favourite holidays and my top store for anything I need for my cat has tons of fun Halloween themed products for cats and dogs that everyone in the household will love! I received a Disney PetHalloweeen Cheshire Cat costume for my princess and an assortment of Martha Stewart Pets and KONG Halloween-themed cat toys to review and I was so excited to get my finicky feline ready for Halloween.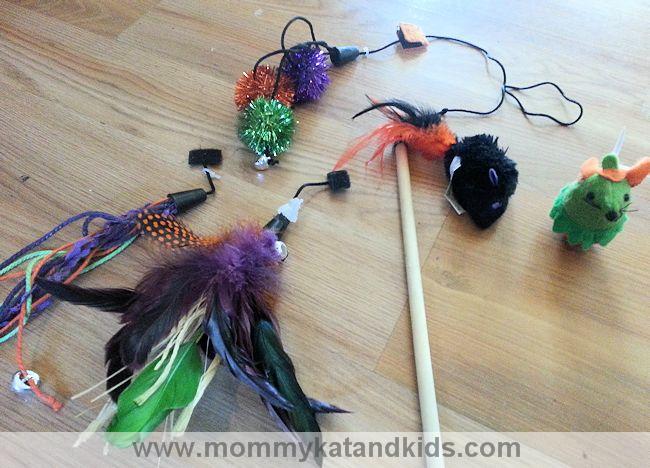 I tried the costume on Racer right away and I have to admit, I wasn't too surprised when she immediately whirled around trying to pull it off. She succeeded quite quickly and shot me a look that made it clear she was not terribly entertained by my attempt to dress her up. I tried a few more times over the next week, but she was having none of it and stalked away haughtily each time she'd pulled the costume off. Halloween costumes for animals are so cute, but when it comes to keeping the costume on the animal, dogs definitely have a better temperament for dress-up!
The Martha Stewart Pets and KONG Halloween toys were another story, however! Racer absolutely adored them and had so much fun batting around the Martha Stewart Pets Wobble Mouse and rolling around with the KONG Halloween Kitty Thrasher Bat. She has never been exposed to catnip before and so watching her with the catnip-infused KONG Halloween Kickeroo pillow was hilarious. It's pretty obvious that the rumours about catnip are true based on the way my cat reacted to it! But I think my favourite toy was the Martha Stewart Pets Interchangeable Teaser because it let the boys get involved in our kitty's playtime too. She had such a great time jumping after the different attachments on the stick and the boys liked pretending they were using a magic wand to entertain her!
PetSmart wants to give your pet an extra special Halloween, so the company is very generously offering one lucky Mommy Kat and Kids reader a Halloween costume and toy prize pack just for your cat or dog! To enter to win, just leave a blog comment about the pet that would be getting this prize pack if you won! And on October 19, make sure to take your precious pet down to your nearest store for some pre-Halloween fun, because PetSmart is hosting in-store events to let you enjoy some costume time with your animals!
Whether your pet tolerates a costume without blinking an eye or pulls it off the second it's on, your animals can still enjoy Halloween festivities with the fabulous costumes and toys available from PetSmart. Check out the Halloween-themed costumes and toys for yourself and let your pet join in some spooky fun on October 31 this year!
a Rafflecopter giveaway