Get ready for Halloween fun and games the whole family will love with the newest DVD from NCircle Entertainment, Room on the Broom! This hit DVD is based on the popular children's book by Julia Donaldson and is available just in time for Halloween along with some other fabulous titles perfect for your little ghouls and goblins.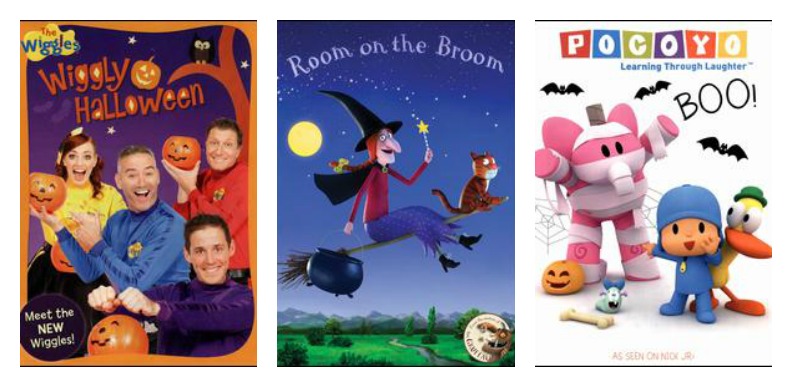 Recently we received a Halloween pack containing the new Room on the Broom DVD, picture book and plush toy as well as Pokoyo: Boo and The Wiggles: Wiggly Halloween DVDs to check out for ourselves. My boys have always loved books and Julia Donaldson is already a favourite author in our home, so we couldn't wait to see what Room on the Broom was like. The DVD didn't disappoint and immediately had both my boys captivated.
The subject matter of Room on the Broom is perfect for Halloween without being too scary and both my boys loved the DVD. I appreciated the fact that it was appropriate for different ages since the plot was entertaining but overly frightening. And the picture book makes great bedtime reading to get the kids excited about Halloween too!
To get you in the mood for some scares, NCircle Entertainment is offering a spooktacular giveaway! One lucky Mommy Kat and Kids reader will receive a prize pack containing a Room on the Broom DVD, softcover book and plush toy as well as a Pokoyo: Boo and The Wiggles: Wiggly Halloween DVDs, a $65 value! To enter to win, just leave a blog comment about what your child is going to be for Halloween.
Halloween is just around the corner and with this fun new DVD from NCircle, your kids are sure to be even more excited about the upcoming celebration. Check out Room on the Broom on DVD for yourself and let your kids see what happens when a friendly witch picks up one too many passengers on her ride!
a Rafflecopter giveaway