My boys can be picky eaters, so finding tasty, healthy food that they will actually eat is a never-ending challenge in our household. And when we're out and about, keeping our meals healthy is even more difficult! The kids may be happy with hamburgers, fries and soda, but I can't help but want them to have something more nutritious. So when Extreme Pita gave me the chance to review its fresh and healthy Kids Menu, I couldn't resist. I had been wanting to try Extreme Pita for quite some time and I had high hopes that the company's veggie-packed, freshly-made pitas would be something my boys enjoyed too.
Extreme Pita is passionate about creating healthy food that tastes great, something I noticed as soon as I walked into the restaurant. Fresh vegetables are abundant and for hot pitas, veggies are sautéed in water instead of oil to keep the fat minimal. Best of all, a variety of the pitas both on the regular menu and the Kids Menu have earned the Heart and Stroke Foundation's Health Check Symbol!
I decided to try the Chicken Souvlaki pita since I am a big fan of Greek food, and chose the BBQ4U pitas for my two boys and their visiting cousin. I loved that whole wheat pitas were available to boost up the health of the pitas even more. Watching the staff whip up our pitas had my mouth watering and soon our order was ready. Items on the Kids Menu come with a choice of white milk or juice and either pita chips or a cookie for dessert, which had my boys excited to dig in as well.
Zackary has maintained for quite some time that he doesn't like tomatoes, but he actually did eat a few of them when they were combined with chicken, lettuce and cucumber, his favourite vegetable, in this wrap. He especially loved the spicy barbeque sauce and actually complained that there wasn't enough of it after finishing about half his pita! Benjamin devoured his wrap in messy four-year-old style and left nothing more than a bit of the pita shell. And my own pita was absolutely delicious and bursting with lean chicken breast strips, feta cheese and vegetables. Extreme Pita is definitely going to be our first stop the next time we're out of the house and need food fast!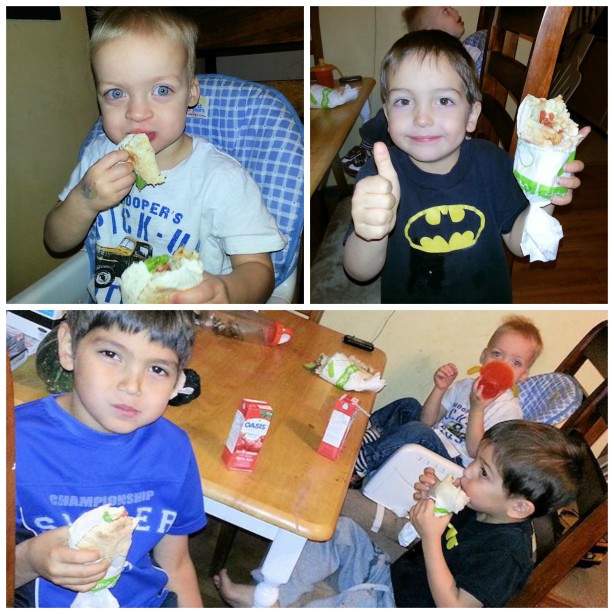 If you want to let your family enjoy healthier lunches on the go too, you're in luck! Extreme Pita is very generously offering one lucky Mommy Kat and Kids reader a $50 Extreme Pita gift card so that you can have your own healthy and delicious feast. To enter to win, just leave a blog comment about which Extreme Pita Kids Menu pita you think would be your child's favourite.
I am so happy that I finally had the chance to try Extreme Pita for myself and now that I have, these tasty pitas stuffed with fresh vegetables, lean meat and delicious sauces are going to be a regular indulgence in our household. For those times when you're out and about but don't want to resort to hamburgers and fries for lunch, why not check out Extreme Pita? Tasty, healthy, quick and filling, these pitas are everything you want a family lunch to be!
a Rafflecopter giveaway