There's nothing my family loves more than a Mexican Fiesta. Mexican food is my boys' favourite type of cuisine and one I love as well.
I've been experimenting a lot with different Mexican dishes lately and so when Chicken Farmers of Canada challenged me to throw my own Mexican Fiesta and create one of its tasty Mexican recipes for our feast, I couldn't resist.
As far as my boys are concerned, tacos and fajitas are the best Mexican food ever created, but I wanted to shake things up a bit and try something new.
I decided to create the Chicken Tamale Pie and it was just the kind of unique and delicious meal I had hoped it would be.
I made a few substitutions to make this meal suit our family's tastes a little more. I cut back on the heat by eliminating the hot pepper sauce and jalapenos. Then I decided to trade the black olives for a popular Mexican favourite, black beans. The beans increased the protein and fibre in the dish while still giving it the authentic Mexican flavour I wanted.
Finally, I topped the cornmeal crust with cheddar cheese instead of mozzarella because my boys and I love the richer flavour.
The dish baked up to perfection in just thirty minutes and I loved how easy it had been to assemble. Essentially I just simmered the filling in a pan until it was cooked and then topped it with a simple cornmeal biscuit batter. Meals that come together quickly are always a big win in my busy life!
And when the time came to dig in, we all loved this spicy and flavourful dish. Of course, eating it wearing sombreros and moustaches may have helped to increase the appeal, but if dressing up helps my boys clean their plates, I'm happy with that!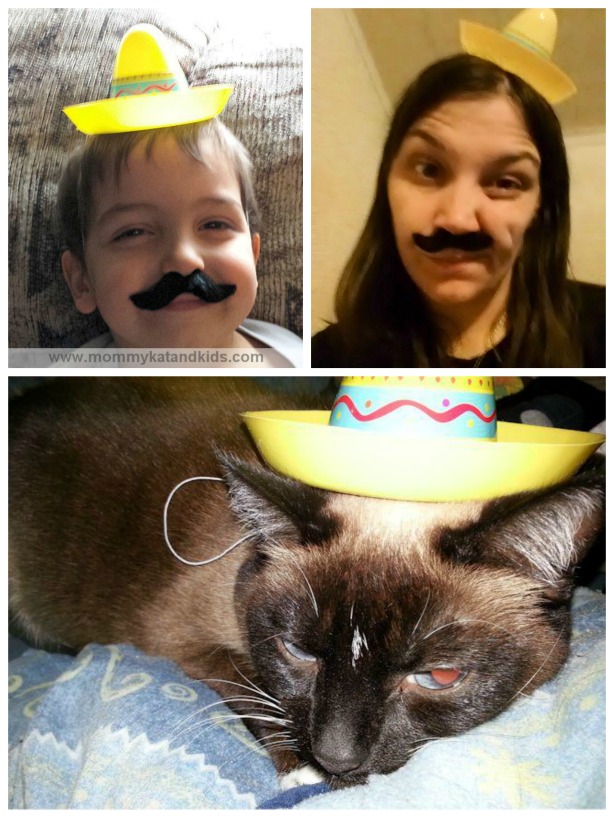 Chicken Farmers of Canada has so many more great Mexican recipes I can't wait to try for my next fiesta. The Avocado, Beet and Chicken Tostadas sound so unusual and delicious, and I'm sure the Stacked Tortilla Bake with Chicken Chili will be a favourite with my boys!
Check out the selection of fun and easy Mexican meals on the Chicken.ca website for yourself and add some spice to your dinner tonight!
Chicken Tamale Pie
This spicy dish is inspired by the corn husk-wrapped tamales of traditional Mexican cuisine. Combined with the concept of chicken pot pie, it's an unusual but delicious spin on classic Canadian comfort food.
Ingredients
1/2 lb 0.3 kg lean ground chicken
8 tsp 40 mL vegetable oil
1/2 cup 125 mL onion, diced
1 cup 250 mL salsa
7 tbsp 105 mL water
2 tsp 10 mL chili powder
1 tsp 5 mL cumin, ground
1 tsp 5 mL oregano, dried
10 drops hot pepper sauce
1 cup 250 mL corn niblets, frozen
1 red pepper, s, diced
1 jalapeño pepper, seeded, chopped
1 cup 250 mL black olives, sliced
3/4 cups 175 mL cornmeal
1/4 cup 60 mL whole wheat flour
1 tsp 5 mL baking powder
2 tbsp 30 mL cilantro, fresh, minced
1 egg
1/2 cup 125 mL 2% milk
1/2 cup 125 mL low-fat mozzarella cheese, grated
Instructions
Sauté ground chicken and diced onion in a large skillet until chicken is browned; drain.
Stir in salsa, water, 1 tsp (5 mL) of chili powder, ground cumin, oregano and bottled hot sauce (optional); bring to a boil. Reduce heat to low and cook, stirring occasionally, for 3-4 minutes. Add corn, red pepper, jalapeño pepper, sliced olives and salt, if necessary, to taste.
Preheat oven to 350ºF(180ºC).
In a separate bowl combine cornmeal, whole wheat flour, baking powder and 1 tsp (5 mL) of chili powder for topping.
Beat vegetable oil, egg, milk and minced coriander (cilantro). Add to dry ingredients. Stir until just combined. Do not overmix.
Spray an 8" square casserole with vegetable oil cooking spray and spread chicken mixture evenly over bottom. Top with cornmeal topping. Sprinkle dish with shredded cheese.
Bake for 30-40 minutes or until knife inserted into cornmeal comes out clean and the dish is slightly browned.
Nutrition Information:
Yield:

4
Serving Size:

1 grams
Amount Per Serving:
Unsaturated Fat:

0g