I think almost everyone feels insignificant at some point, as if their actions couldn't possibly make a difference in the world. But when one spark ignites to inspire hundreds, then the smallest actions can have a big impact on the world. Craig Kielburger is the perfect example of that philosophy. At just twelve years of age, he read a story about child slavery and was inspired to take action. He talked to his teacher, stood up in front of his class and ignited the spark that would grow to become Free the Children, an international charity and educational partner that operates in 45 different countries.
But his work didn't stop there! As a believer that youth would be the ones that change the world, Craig and his brother Mark joined together in initiatives that would both better the world and inspire young people to make a difference. One of the brothers' most well-known and inspiring achievements was the founding of We Day, the national celebration of youth leaders in the community. Last year, We Day came to Saskatchewan for the very first time. And this year the event returned once more to celebrate and inspire the 16,000 youth in attendance.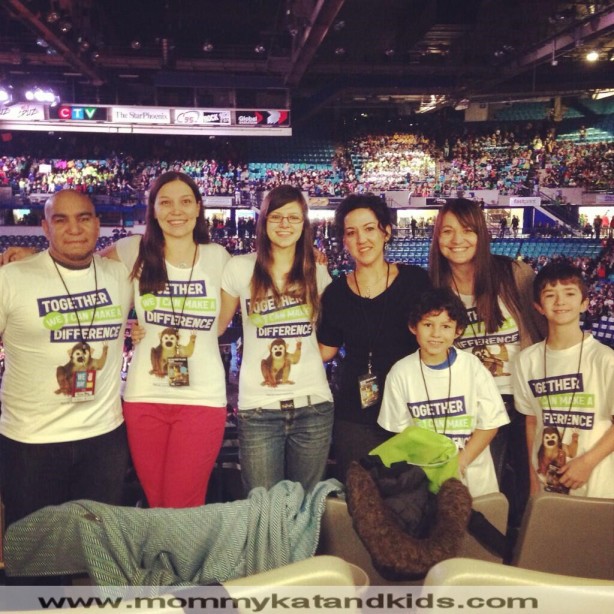 I was incredibly excited to be given the chance to attend We Day Saskatchewan thanks to Telus, one of We Day's title sponsors. I'm a loyal Telus customer because of the company's great plans and customer service, but I'm also a Telus supporter because the company participates in fabulous initiatives like We Day. In fact, Telus has supported Free the Children and We Day since 2006 and has donated millions of dollars to the charity in its role as a national co-sponsor of We Day.
I took my youngest sister with me to the event and she was absolutely ecstatic about attending. Not only had she dreamed of attending We Day since she first heard of the event, she also knew that Magic Johnson would be speaking. Since my sister is a college basketball player, Magic Johnson was definitely worthy of hero status in her eyes!
But hearing the man speak had the entire audience seeing just what a hero he was. As a child, Magic's mother had sent him to shovel the driveways of elderly neighbours that weren't capable of doing so. He admits he didn't appreciate that at the time, but that he knows now she was teaching him one of the most important lessons he would ever learn: what makes a person great is their willingness to help others.
The event featured speech after speech that had me moving from laughter to tears to anger to hope as I heard stories of children in other countries denied an education because of their poverty or gender, children being bullied because of their differences and, most of all, children thriving and beating seemingly impossible odds to achieve greatness, all through their desire to help others.
Of course, no celebration is complete without entertainment, and there was plenty of that at We Day Saskatchewan as well! Neverest, Tyler Shaw, Karl Wolf, Kay and the always inspirational Shawn Desman took to the stage and the energy in the room was absolutely electric. Thanks to the fabulous people at Telus, we were able to enjoy some meet-and-greet moments with Kay, Tyler and even Mark and Craig Kielburger themselves!
One of the contributions Telus has made to We Day this year is the creation of the We365 app, available now on Blackberry World, Google Play or the Apple App Store. The app allows youth to tackle challenges and track volunteer activity that betters their communities and the world. There's even a chance to win exclusive opportunities such as a hike with Spencer West or a day trip with Craig Kielburger. And We365 activity can even be shared on Facebook and Twitter to inspire others! Telus also created the fabulous Phones for Good campaign by donating $25 from the sale of select TELUS BlackBerry 10 devices to Free The Children.
To celebrate all the fabulous youth initiatives taking place throughout Canada, Telus has partnered with Blackberry to offer an amazing giveaway! One lucky Mommy Kat and Kids reader is going to win their very own Blackberry Q5 phone worth $425! To enter to win, just check out the We365 app website and leave a blog comment about something you liked or learned there.
I was so happy to have the chance to experience the magic of We Day once more, and I know that the youth of Saskatchewan are going to take the inspiration from the experience and go forward to do amazing things. I love that Telus believes in the importance of our young people as much as I do and I can't thank the company enough both for giving me the chance to attend We Day once more and for sponsoring the event so that youth across Canada are motivated to empower one another and influence change. With a little support, we can all help change the world!
a Rafflecopter giveaway