After nursing all three of my children while also attending school and working full time, I have definitely tried out my fair share of breast pumps. It has been years since I've used a manual pump but I remember it being a struggle.  Still, manual breast pumps come at a fraction of the cost of the electric ones and can be a reasonable option if you aren't looking to make a huge investment in your pump.  And the manual pump has come a long way since I last used one years ago.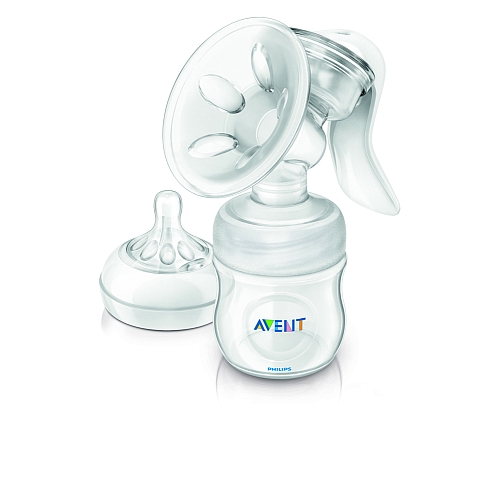 Philips AVENT offers a well-designed manual pump that solves one of the former discomforts of manual pumping.  With most pumps you have to lean forward to help direct the milk into the bottle but with the Philips AVENT Comfort Manual Pump, leaning forward is unnecessary so you can sit comfortably and relaxed while expressing your milk.
Another thing I remember about manual breasts pumps is the hard plastic construction.  When I opened the Philips AVENT Comfort pump, I was pleased to see that the shield was covered with a soft textured cushion that will rest against the breast during pumping as opposed to the hard cold plastic I remembered!
Philips AVENT wants you to experience the great design of its products for yourself, so the company is very generously offering one lucky Mommy Kat and Kids reader a Philips AVENT prize pack worth $31! To enter to win, just leave a blog comment about your top must-have baby product.
Any professional will tell you that for optimum milk production and let-down, a mother should be comfortable and relaxed.  Philips AVENT has clearly used that very knowledge to guide the design and features of their new manual breast pump.  The Philips AVENT Comfort Manual Breast Pump appears to be huge improvement from the manual breast pumps of the past and a worthy choice for any mother seeking a comfortable pumping experience at a reasonable cost.
a Rafflecopter giveaway