One of my favourite activities every Christmas is making holiday treats with my boys. There are some goodies that I whip up myself, but there are others that my boys help me create. We all love spending quality time together and of course, Zackary and Benjamin get very excited about eating their creations afterwards!
This year we added a new item to our usual list of goodies, and it's one that supports a very special cause! We headed into the kitchen to create special Rice Krispies edible toys for the Treats for Toys campaign. By taking a picture of a treat and uploading it to ricekrispies.ca, Rice Krispies will donate $20 to the Salvation Army to provide a toy to a child in need this Christmas!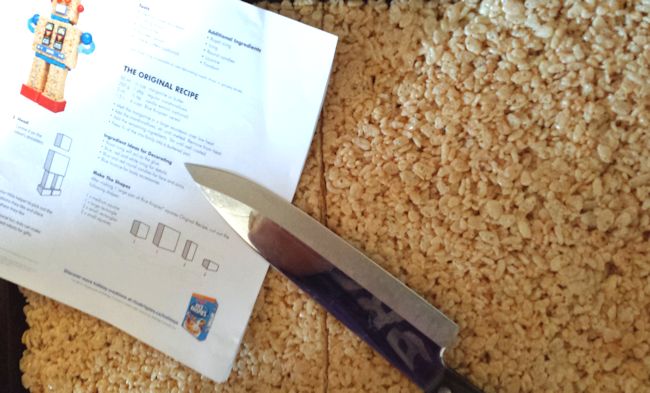 Rice Krispies has created some fabulous instructions for creating different treats, so my boys and I decided to test them out ourselves. We started out with the basic Rice Krispies Squares original recipe:
Rice Krispies Squares Original Recipe
The original Rice Krispies Squares recipe; simple and delicious!
Ingredients
50 ml ¼ cup margarine or butter
250 g 1 pkg regular marshmallows
2 ml ½ tsp vanilla extract (optional)
1.5 L 6 cups Rice Krispies cereal
Instructions
Melt the margarine in a large saucepan over low heat.
Add the marshmallows, stir until melted. Remove from heat.
Add the remaining ingredients. Stir until well coated.
Press the mix firmly into a buttered pan.
Nutrition Information:
Yield:

12
Serving Size:

1
Amount Per Serving:
Calories:

98
Total Fat:

5g
Saturated Fat:

1g
Trans Fat:

1g
Unsaturated Fat:

3g
Cholesterol:

3mg
Sodium:

81mg
Carbohydrates:

12g
Fiber:

0g
Sugar:

2g
Protein:

1g

After making the pan of squares, it was time for some fun! Using the instructions we downloaded from ricekrispies.ca, the boys and I started making our creations. Letting the squares cool completely and using a sharp knife is essential for getting those perfect sharp cuts. Then we started assembling and decorating!
The instructions have some suggestions on how to decoration the Rice Krispies creations, but really the sky is the limit when it comes to a project like this. The owner of our small-town candy store was happy to get in on the fun and gave me all kinds of great suggestions about different candy decorations to use. And seeing the way the boys used the decorations to create completely different robots was fun for me too!
Personally, I wanted to get a little girly, so I created the Rice Krispies princess and named her Princess Yummytummy. Brightly-coloured fondant made the perfect dress and Smarties accessorized it beautifully. My favourite part of the princess, though, was her candy hair!
In December, I'll be sharing some unique Rice Krispies creations that are a delicious and fabulous way to support the Treats for Toys campaign, but don't wait for that to get involved yourself! With the basic Rice Krispies Squares recipe and a few fun edible accessories, creating tasty treats that make a difference is easy! Make a few this weekend, upload the pictures to ricekrispies.ca and give a child in need a Merry Christmas this year!