Over the last month, I've been helping to spread the word about the Rice Krispies Treats for Toys program. Just create a Rice Krispies Treat toy, upload a picture of it to www.ricekrispies.ca and Kellogg's Canada will donate $20 to the Salvation Army to help give a child in need a real toy this Christmas! My boys and I have already made some treats following the great instructions provided on the Rice Krispies website. But I couldn't resist getting creative and whipping up some custom creations too!
I decided to create a treat to symbolize my boys' favourite toys. Benjamin is a huge fan of stuffed animals and Zackary loves LEGO. So I put together two different recipes to create a Rice Krispies LEGO house and a Rice Krispies teddy bear!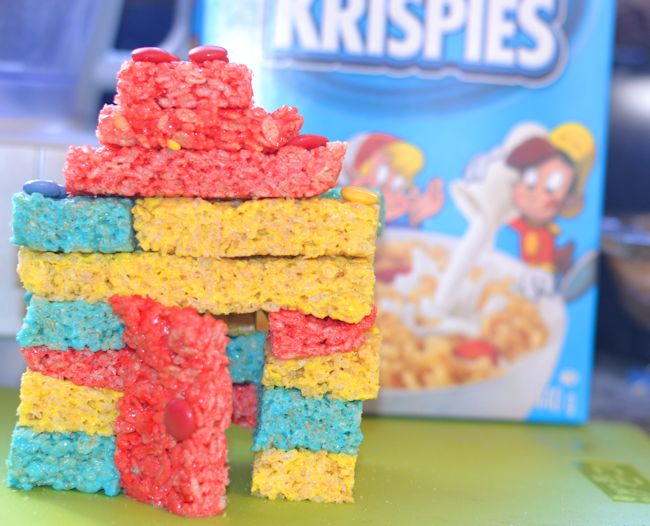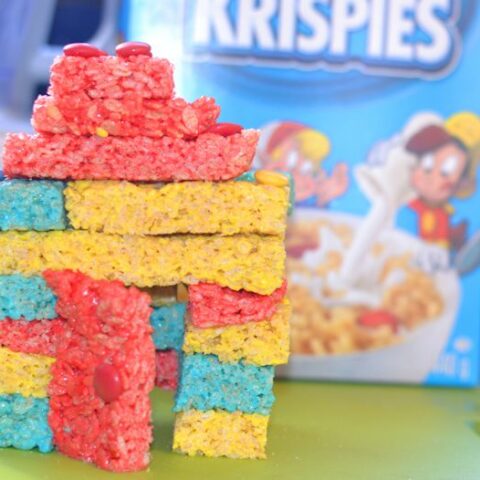 Rice Krispies LEGO House
A fun kid-friendly variation on traditional Rice Krispies Squares!
Ingredients
1/4 cup butter
1 250 g pkg. marshmallows
6 cups Kellogg's Rice Krispies cereal
Red, yellow and blue food colouring
Smarties candies
Instructions
In large saucepan over low heat, melt butter. Add marshmallows; stir until melted and smooth.
Remove pan from heat and pour marshmallow mixture in three glass bowls. Add a few drops of food colouring to each bowl and stir until colour is uniform.
Stir two cups of Rice Krispies cereal into each bowl and mix until well blended.
Press mixture into greased pans using a buttered spatula or buttered hands. Cut into squares and rectangles.
Assemble squares into a house shape. Decorate with Smarties candies.
Nutrition Information:
Yield:

8
Serving Size:

1
Amount Per Serving:
Calories:

236
Total Fat:

6g
Saturated Fat:

4g
Trans Fat:

0g
Unsaturated Fat:

2g
Cholesterol:

15mg
Sodium:

181mg
Carbohydrates:

45g
Fiber:

0g
Sugar:

21g
Protein:

2g

This peanut butter version of traditional Rice Krispies Treats is one my mother used to make and a nice change of pace when doing holiday baking. It is a little more crumbly to work with though, so don't try anything too complicated! Smarties, chocolate chips and round chocolate covered cookies create an adorable and delicious treat!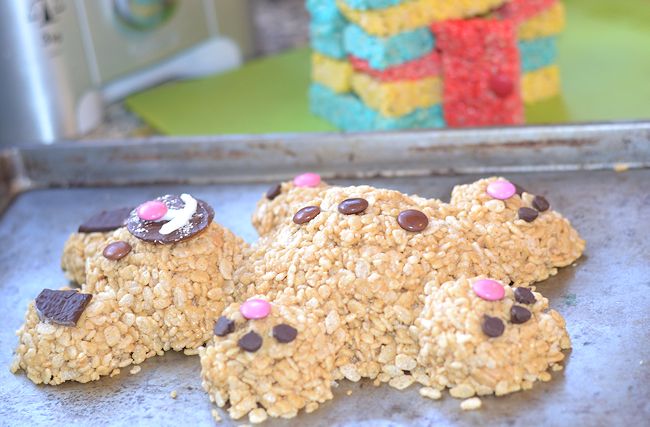 The boys and I have had such a fun time participating in the Rice Krispies Treat for Toys program, and as Zackary and Benjamin are happily enjoying a little holiday sugar overload, I get the satisfaction of knowing that children in need will be waking up to a Christmas surprise thanks to Rice Krispies and the Salvation Army. Now that's a meaningful holiday activity!
With less than a week until the big day, why not spend some time this weekend creating your own Rice Krispies Treats for Toys creation? It's lots of fun and you'll be helping needy children across Canada to have a Merry Christmas this year while spending some great quality time with your kids too!