One of the most foolproof gifts for a handyman is new tools and coming from a family that has a talent for DIY, home renovating and mechanics, it's one of the reasons tools are often on my Christmas list. Ryobi tools are one of the brands that I always know will be well-received, and with good reason! The company specializes in offering professional-quality tools at affordable prices so that home renovators and do-it-yourself fans can get the great performance they want without spending a fortune.
This year, one of Ryobi's hottest products is the Ryobi 18V One+ 6pc Ultimate Combo Kit. Featuring six different and essential power tools, two batteries, an IntelliPort charger and a tool bag, it's the ultimate set for any handyman. And the Lithium+ batteries improve the performance of the tools up to 15% while providing benefits such as longer runtime, lighter weight and extreme weather performance.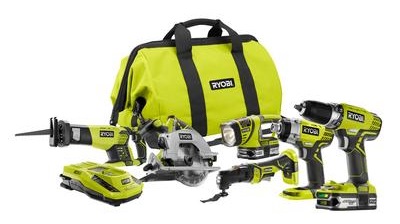 I received the set to check out for myself and I could see at a glance how handy it would be for all kinds of home renovations, repairs or construction. The set includes a Compact Drill, an Impact Driver, a Circular Saw, a Reciprocating Saw, a JobPlus Base with Multi-Tool Attachment and a Work Light. I was especially excited to see the Circular Saw. These saws are so handy for all kinds of jobs and when I was cutting the end pieces to install my new laminate flooring in the living room, I wished many times that I had one. I used a reciprocating saw instead and while it got the job done, it didn't give me the clean, straight cuts I wanted.
I was also excited about the Impact Driver. These handy little tools are designed for driving in screws with a high level of speed and efficiency. Occasionally, when installing shelves or wall hangings around the house, I've had to use longer screws for stability and a Compact Drill just doesn't have the power to drive the screws in all the way. The Impact Driver will be able to do the job no problem!
The tools in the set all feature GripZone casing for better grip of the tools and the IntelliPort charger can fully charge the Lithium+ battery in as little as thirty minutes! Powering through a home project has never been easier. Whether you have a handyman on your shopping list or just want to ensure you're ready to tackle home jobs when they arise, the Ryobi 18V One+ 6pc Ultimate Combo kit is a great buy. Check it out and surprise your favourite DIY fan by putting this set of must-have tools under the tree this Christmas!