If you have kids that love Angry Birds in your house, you're probably already familiar with the huge collection of Angry Birds toys, games and merchandise available. But now, birds and pigs are facing off in a whole new way with Angry Birds GO! Telepods! These fun new sets feature race tracks and karts that power through obstacles in a mission to beat the pigs once and for all. Even better, the sets include a Telepods base that lets you teleport your kart into the new Angry Birds GO! App for even more fun!
I received the Angry Birds GO! Telepods Pig Rock Raceway set to review and I knew my oldest son, a huge fan of both Angry Birds and racing, would absolutely love it. The set contains two karts featuring favourite Angry Birds characters, a track, three pig heads and the Telepods base. We set up the track and got racing!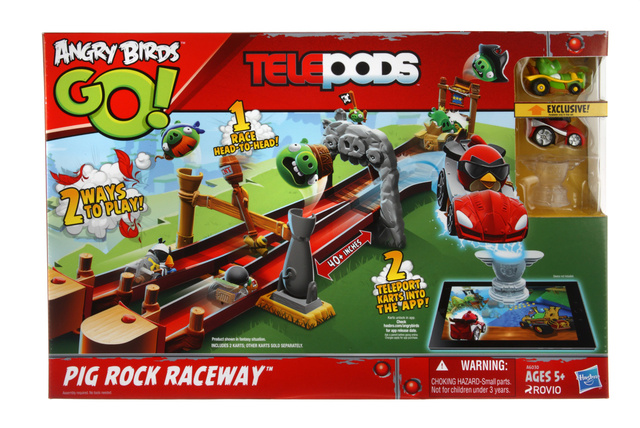 The track is lots of fun and my boys loved trying to avoid the dynamite and knock down the pirate pig as they raced. But Zackary, my video game obsessed oldest son, was even more excited about the Angry Birds GO! app and the fact that he could upload his kart to it the next time he played! The app has become one of his new favourite games and the fact he can add bonus content to it using the Telepods base makes it extra special for him.
The great thing about the new Angry Birds GO! Telepods sets is that they combine real-life play with virtual entertainment so that your child can enjoy some fast-racing fun with Angry Birds in a variety of different ways. Check out the new sets for yourself and let your child speed to victory and defeat the pigs!