If there's one thing that can make life easier for a new mom, it's a really good diaper bag. I remember when I gave birth my oldest son, the only diaper bag I had was a large denim sack with a change mat built into the cover flap. It had a one-size-only crossbody strap, one undivided large main pocket and Winnie the Pooh on the front of it. In other words, it was neither stylish nor functional and I dreaded carrying it around.
Times sure have changed since then! Fortunately for women everywhere, companies have realized that a high level of function in a diaper bag is something a mom needs and that cute, stylish designs are something a mom wants! As a result, we finally have tons of choices when it comes to choosing a diaper bag that looks great and organizes all that baby gear. Recently I had the chance to check out the babymoov Free Hand Nappy Bag from Cariboo Distribution, a company that specialises in distributing top brands such as Baby K'Tan and Simply Good in Canada. It looked like just the sort of diaper bag I love so I was excited to get my hands on it and check out its features.
The babymoov Free Hand Nappy Bag comes in three sleek and stylish colour combinations, and I decided on the Black/Grey/Fuchsia to review. The black and grey design is versatile and easy to coordinate with any outfit, while the subtle pink stripes on the side and interior lining provide just the right flair to add that special something to the bag. I was impressed by the look, but I was even more impressed by the functionality of this beautiful bag!
The first thing that sets the babymoov Free Hand Nappy Bag apart from the competition is that it's not just one bag at all. It actually has a variety of different bags incorporated into its design. First, the front of the bag features a detachable clutch that opens into a change mat complete with a zippered storage pocket for diapering supplies and a mesh pocket at the top perfect for holding a change of clothes. And the interior of the main bag also features a variety of different pouches and bags for various mom necessities.
An insulated bag keeps bottles and perishable snacks cold and fresh when mom is out of the house. A clever pacifier pouch ends the days of digging at the bottom of the diaper bag for a germ-covered pacifier for your little one. The bag even includes a cozy polar fleece blanket for when your baby is feeling chilly! But my personal favourite feature was that the bag included two clear wet bags! Every mom has had to deal with a blowout when away from the house at least once, or even just a leaky diaper! With these included pouches, storing those wet clothes is no problem at all!
Of course, in addition to all the extras, the babymoov Free Hand Nappy Bag also features plenty of interior room including two large main pockets, two zippered pockets and a variety of pouches and dividers to keep baby gear organized. Top that all off with two exterior zippered pouches, the option of either purse straps or a crossbody strap and durable metal hardware and you've got a diaper bag that will actually have you excited about leaving the house with your baby!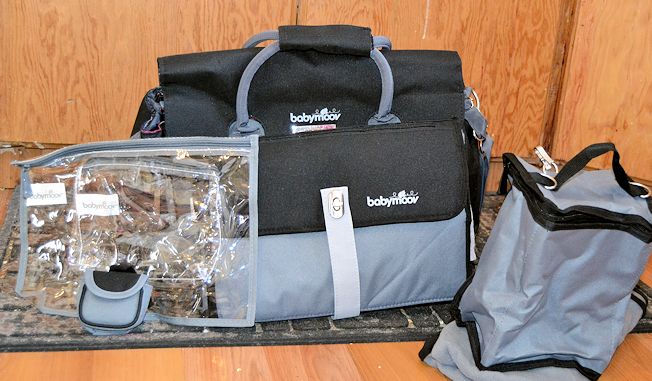 Cariboo Distribution wants to make your outings with your little one more enjoyable, so the company is very generously offering one lucky Mommy Kat and Kids reader their own babymoov Free Hand Nappy Bag, a $75 value! To enter to win, just check out the Cariboo Distribution website and leave a blog comment about another product on the site you'd love to own!
I am so glad that companies have realized what moms need in a diaper bag so that I'll never again have to carry an unattractive and unfunctional sack of supplies again. And this gorgeous diaper bag is a perfect example of parenting gear at its best. Durable, stylish and packed with everything needed for a little one, a mom may just find herself planning outings just for a chance to use it! Check it out at Cariboo Distribution and see how easy caring for an infant on the go can be.
a Rafflecopter giveaway