When I was just a child, one of our family's weekly activities was sitting down to watch reruns of The Muppet Show each week. Our entire family, adults and children alike, couldn't get enough of the loveable characters and their adventures. And when the first Muppet movies were released, we just had to sit down to watch those as well!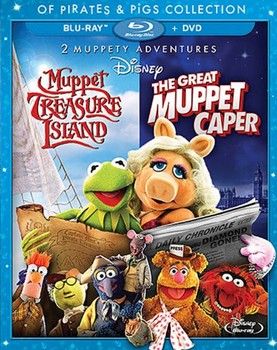 The Muppets have been modernized a lot since then, but those classic movies are still so much fun and this year, Disney has released Muppet Treasure Island and The Great Muppet Caper in a special Blu-ray two-movie collection! I had the chance to review the Blu-ray release recently and I was pretty excited to introduce my boys to the Muppets as I once knew them! Here's a brief synopsis:
A treasure trove of hearty laughs is yours when two of the funniest, most action-packed Muppet movies of all time make their Disney Blu-ray debut in a 2-Movie Collection. From the special star-studded lunacy in Muppet Treasure Island to the jewel-heist hilarity of The Great Muppet Caper, these two classic comedy-adventures are packed with mirth, mayhem and, of course, Kermit, Miss Piggy, Animal, Fozzie, Gonzo and all your Muppet favorites. Jim Henson's whodunit heist-movie The Great Muppet Caper and the silly and swashbuckling high-seas adventure, Muppet Treasure Island, both restored and remastered, are loaded with unforgettable music and sparkling special effects.

The Great Muppet Caper was my all-time favourite movie for quite awhile when I was a child, so sitting down to watch it again had me instantly nostalgic. The adventures of Kermit and his friends are always so much fun to experience and I loved the movie every bit as much as I had when I was young. And my boys loved discovering these classics as well! Zackary has read Treasure Island before so he especially enjoyed seeing it reimagined in Muppet Treasure Island. And both boys loved the mystery and intrigue in The Great Muppet Caper!
The Great Muppet Caper and Muppet Treasure Island: Of Pirates & Pigs 2-Movie Collection is available now on DVD and is a must-own collection for any fan of the Muppets. Grab a copy from your favourite movie store today and introduce your family to these classic Muppet adventures that have been loved by families since they were first released!