Visiting a Disney theme park was something that I always dreamed about as a child. I was lucky enough to travel quite a bit in my youth, but going to Disneyland was one adventure I never had the chance to experience. Last year that all changed when my boys and I flew off for a five-day trip to Disneyland to discover our Disney side for the first time.
What's your Disney side? Well that's simple. It's the magic that fills you up and takes over your heart the second your family steps through the gates of a Disney theme park. As we prepared for our trip, I heard from friends about that moment their Disney side took over. For one father, it was seeing the way his little girls' faces lit up when they saw the Mickey Mouse flower garden just inside the Disneyland entrance. For a mom friend, it was rushing off to take that first thrilling ride on Indiana Jones Adventure with her teenage son after arriving.
I knew our Disney side would come out in full force too, even though I didn't know how. And my boys were just as excited as I was to step into Disneyland and let the park work its magic on us. We hardly knew what to do first as we stepped into Disneyland and stood staring with Main Street, U.S.A. stretched out in front of us. I saw Sleeping Beauty Castle at the end of the street, just as I'd seen it in so many photos, videos and commercials as a child, and I couldn't help but feel like I was in a dream.
But it was when I looked at my boys and saw Zackary and Benjamin's wide open eyes and huge grins that I really found my Disney side. Their wonder at seeing Disneyland for the first time was overwhelming and had me determined to help them experience everything in the park.
The next few days were a whirlwind of activity and every day brought out our Disney side more and more. From heading under the sea in a submarine on the Finding Nemo Submarine Voyage to experiencing the life of a pirate on Pirates of the Caribbean, the rides were so much fun and just as magical as I could have hoped. My boys and I all loved the classic 1955 ride Peter Pan's Flight, which let us actually feel as if we were flying over London by night. And the Haunted Mansion, despite its name, had some great giggles to go with the thrills and chills!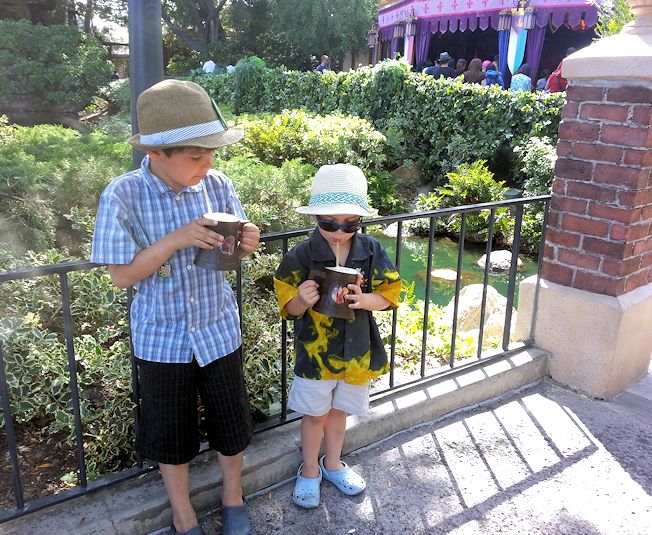 The rides are only part of the appeal of the park, though. From live shows to tasty treats, there was so much more to experience. My boys adored watching the Mickey and the Magical Map performance at the newly reopened Fantasyland Theatre. And there was no better way to relax and recharge on a hot day than by sipping a frosty cold Boysen Apple Freeze while seeing a humour-packed rendition of Tangled in the Fantasy Faire Royal Theatre. Zackary even got the chance to train as a Jedi Knight and fight Darth Vader in Tomorrowland!
It was an overwhelming experience finding our Disney side and now that we have, there's no doubt in my mind that we'll be heading back to Disneyland one day. It's a place that everybody should experience at least once and a place that will inevitably capture your heart once you do experience it. Why not make this the year that you plan that ultimate adventure and discover your Disney side? Once you do, you'll never be the same!
Let loose, come play and bring out the fun in your family at Disney Parks! What's your Disney Side? It's the side of you that laughs more, screams more, and just plain lives life to the fullest. It's the side of you that comes out to play the moment your family steps into a Disney theme park. Discover your Disney Side at disneyside.ca.
Disclosure: This post was brought to you by Disney Parks via Glam Media Canada. The opinions expressed herein are those of the author and are not indicative of the opinions or positions of Disney Parks.